Get Work has been officially recognised as a Google Partner. After trading for just 5 months, our team has met the certification, advertising spend and performance requirements necessary to become a badged agency.
Certification
Get Work have 4 Certified Users in Search Advertising, 2 in Mobile Advertising and 3 in Digital Sales. Our AdWords expertise provides customers with added confidence, knowing that their campaigns are managed by certified industry experts. Here at Get Work, we make sure that all employees are Google certified, so whether you're speaking with our support team, sales, or a campaign manager, you'll be in good hands.
Advertising Spend
We have also surpassed Google's ad spend threshold, showing a healthy spend across all managed accounts. Customers can feel confident that their budgets are being supervised by a team experienced in managing volume clients.
Company Performance
Google also determines partner status on performance. They assess individual client and overall revenue growth, retention and advertiser growth. By understanding our client's marketing objectives, we're able to maximise their spend and ensure their campaigns are a success. By continually meeting our client's goals, our performance KPIs are upheld with Google.
Visit Our Partner Page
You can take a look at our Google Partner page here: Get Work's Partner Profile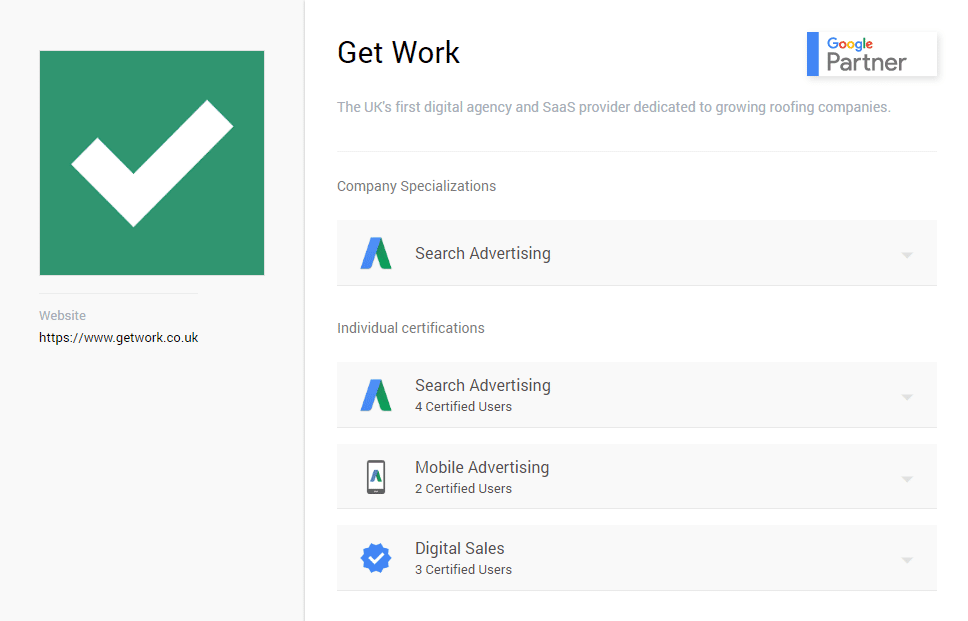 Get On Board!
Time to get in on the ground floor? Speak to a member of the Get Work team to see how we can help grow your company.