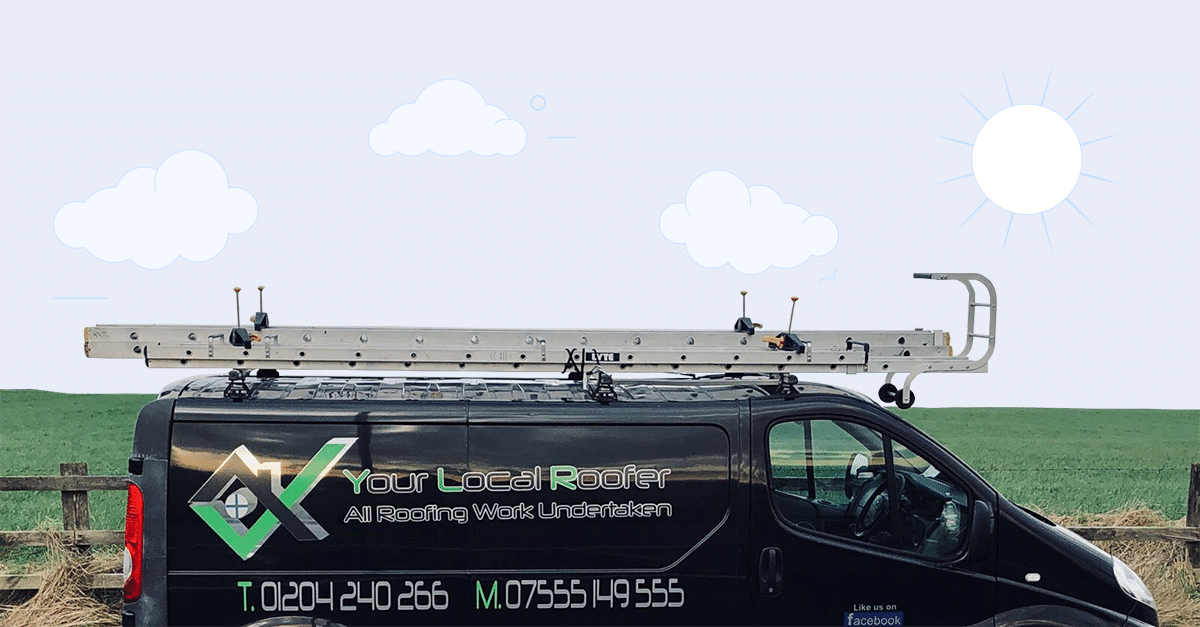 Background
In January 2017, Bri and Joanne Lowe formed Your Local Roofer; a local roofing company set up to serve Bolton and the surrounding areas. Bri was no stranger to the industry, he had worked for a number of local roofing contractors, before deciding to set up Your Local Roofer. As a startup, Bri and Joanne had no customers, no marketing strategy, just a vision of growing their own roofing company from the ground up. Joanne was set to manage the company's admin; quotations, invoicing, emails, marketing etc. and Bri would answer any calls and do what he does best; build, repair and assess roofs.
Before approaching Get Work, Joanne, looked at a number of options to market their business, but after advice from a family friend who worked in marketing, she chose Get Work as a partner to grow their business.
When we first spoke with Get Work, I didn't understand everything if I'm honest, but after asking a bunch of questions I felt like an expert. We now get loads of calls, loads of email enquiries, it's working really well. They've delivered exactly what they said they would.
Joanne Lowe – September 2017
Developing Direction
After getting the green light, we booked an exploratory call with Bri and Joanne. We needed to assess their expectations, understand their business model and objectives, and identify any existing marketing strategy – in order to successfully plan the course ahead. After the call, and as expected for an early stage company, it was quite clear that Bri and Joanne were looking for a partner that could provide a regular stream of quality leads, whilst the company grew.
The Approach
After identifying Joanne and Bri's needs; we got to work. We developed a best-in-class landing page, built specifically to drive leads via forms and phone calls. We then created an AdWords campaign to capture roofing-related searches on Google Web Search™ within a 5 mile radius of Bri and Joanne's business address.
The Results
We launched the campaign in February 2017, which ran for 7 months. Here are the results.
| Month | Subscription | Leads | Calls | Forms | Conversion Rate | Cost Per Lead |
| --- | --- | --- | --- | --- | --- | --- |
| Feb 2017 | Startup (£500p/m) | 10 | 8 | 2 | 7.46% | £50.00 |
| Mar 2017 | Startup (£500p/m) | 14 | 7 | 7 | 8.70% | £35.71 |
| Apr 2017 | Startup (£500p/m) | 24 | 14 | 10 | 12.77% | £20.83 |
| May 2017 | Startup (£500p/m) | 25 | 16 | 9 | 11.79% | £20.00 |
| Jun 2017 | Growth (£1,000p/m) | 51 | 42 | 9 | 14.13% | £19.61 |
| Jul 2017 | Growth (£1,000p/m) | 53 | 38 | 15 | 16.06% | £18.87 |
| Aug 2017 | Startup (£500p/m) | 34 | 22 | 12 | 23.61% | £14.71 |
Noticeable Wins
216% Increase In Conversion Rate
70% Reduction In Cost Per Lead
786% Return On Investment (ROI) in August 2017

NOTE: Our systems were unable to track ROI before August
Optimising For Success
Each and every day, our team worked tirelessly to optimise Your Local Roofer's campaign. Everything that could be tested, was tested. From the persuasive language used in our ads at the start of the visitor journey, to the colour of a button or layout of a form at the very end. Over the course of the campaign, we managed to increase landing page conversion rates by 216%. In August, our best-in-class landing page converted 23.61% of visitors into leads, that's more than 1 lead for every 5 visitors that landed on the page. To put that into perspective, a recent study of 74.5 million visits to 64,000 home improvement landing pages found that the median conversion rate for the sector was 3.3%, with the best conversion rate set at 14.9%; at 23.61%, we can safely say that our methods work. Furthermore, we managed to reduced their cost per lead by over 70% over the 7 month period to just £14.71 per lead.
We've taken on 3 new roofers, 2 labourers and bought a new van, Bri's got work every single day, he's booked up now for another 2 months, which is why we've had to pause the campaign, we were literally getting too many calls to handle, and really could have done with a bigger team earlier to help with the workload.
Joanne Lowe – September 2017
Time To Pause
The campaign had been running for just 7 months when Joanne called us to hit the pause button. After generating over 211 leads in such a short space of time, Joanne and Bri were overwhelmed with work, and whilst fulfilling existing obligations was a priority, they decided to focus on building a team to grow their company. Bri now wants to spend his time assessing and quoting more jobs, with his team now set to complete the work. Bri and Joanne plan to relaunch their subscription in November.
Tracking ROI
As part of Bri and Joanne's monthly subscription, we provided access to our lead management platform. The platform is packed with tools to help run a roofing company more effectively. One of those tools, GetROI™ Reporting, was used to calculate their campaign's return on investment (ROI). For those unfamiliar with the term ROI, it's the amount of money you make from an investment over time. In Bri and Joanne's case, how much money they made by investing in our services. Using GetROI™ they were able to calculate this. Here's the data from August 2017.
| Month | Subscription | Leads | Customers | Total Profit | Return On Investment (ROI) |
| --- | --- | --- | --- | --- | --- |
| Aug 2017 | Startup (£500p/m) | 34 | 6 | £4,430.00 | £3,930.00 (786% ROI) |
After spending £500 with Get Work and making a total profit of £4,430, we can see that Bri and Joanne made £3,930 from their campaign in August; a nice profit for an investment of £500. With the campaign a complete success, and Bri and Joanne already re-structuring their business for growth, it shouldn't be too long before we bring you the next instalment of their journey.
---