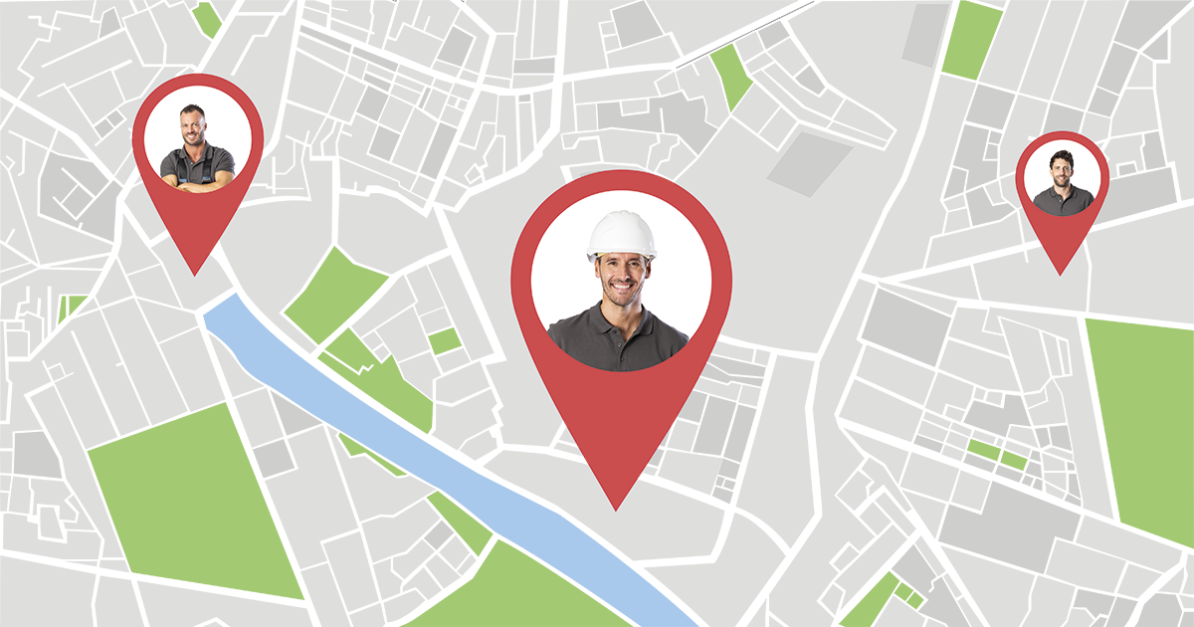 Want to learn how to take advantage of Local SEO as a trade business?
You've come to the right place! In this article we offer a complete guide of what every tradesman needs to know about local SEO.
This article covers:
---
What is local SEO?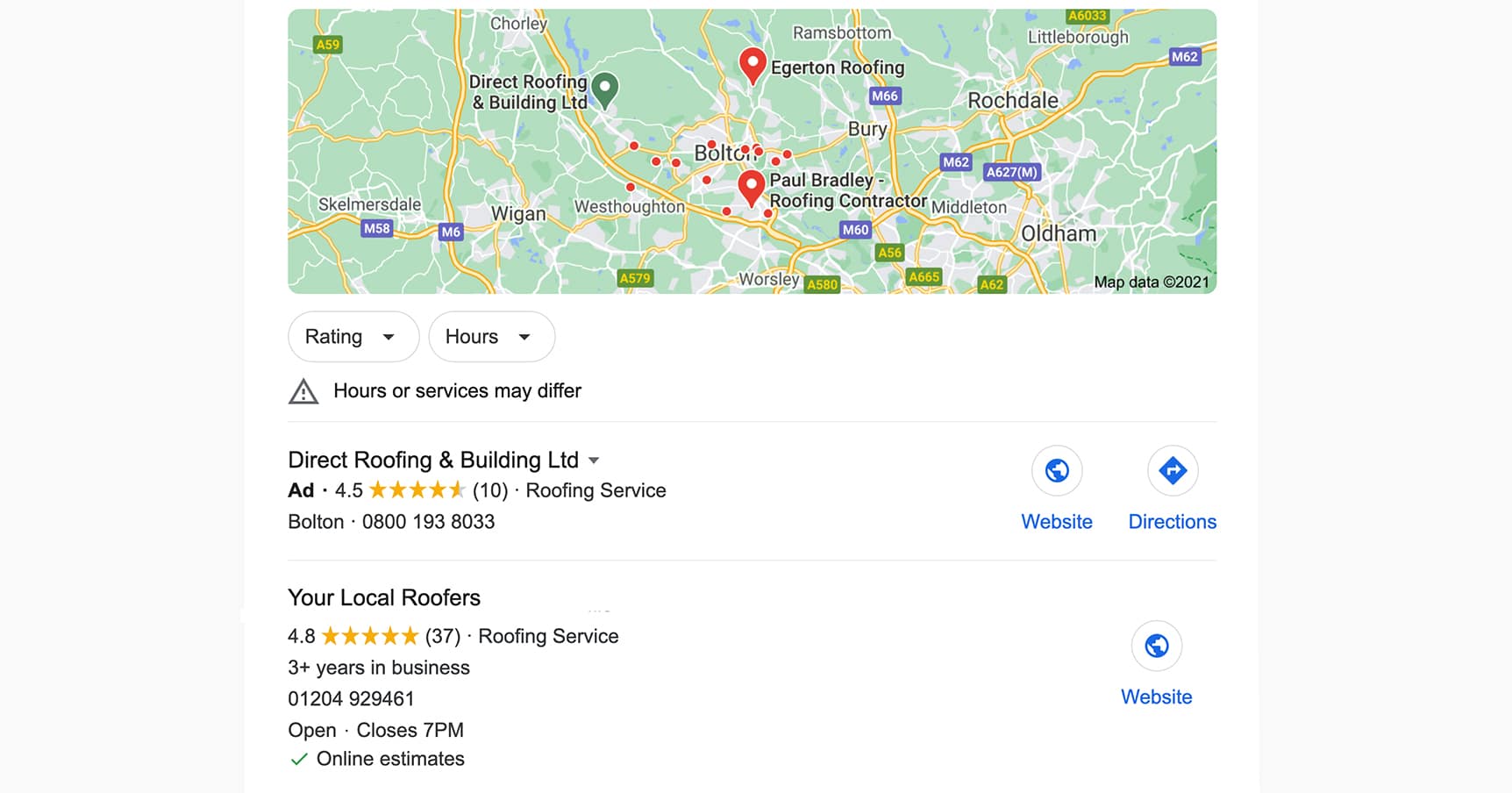 Local search engine optimisation ensures your business is visible in local search engine results. For example, if someone goes onto Google and searches 'local tradesperson near me' or 'roofer in bolton', you want to ensure your business features high in the list of results for your area. You can improve the visibility of your business or service by using local search optimisation strategies, ensuring the people who see a link to your business are in your area.
---
Local SEO vs General SEO
General SEO improves the visibility of your site on a national or international scale. However, local tradespeople do not necessarily need this. While Local SEO is also focused on improving the visibility of your site, it does so in a specific location.
---
Why is local SEO important for a trade company?
You can attract potential local customers by getting your business ranking in Google's 'Local Pack' for the specific service you offer. The Local Pack features a map of the area of the searcher, and a list for three relevant businesses.
The following statistics show the importance of local SEO for your business:
86% of people rely on the internet to find local businesses or tradespeople. Whilst word of mouth continues to be excellent for sourcing new customers, most people will now turn to the internet to search for the tradesperson they want.
93% of the time, Google's Local Pack appears at the top of the search results when a person searches for something in a specific location. This ensures your business is listed on the map with your geographical region displayed clearly.
29% of people search for local businesses online at least once per week.
78% of local mobile searches eventually result in a purchase or booking. Many people use their mobile phones to access the internet, so customers can search for your trade on the go or 24 hours a day without needing to be at a laptop.
46% is the percentage of searches on Google that are local (i.e. that have a town, city or county contained within the search term).
---
How does SEO benefit a trade business?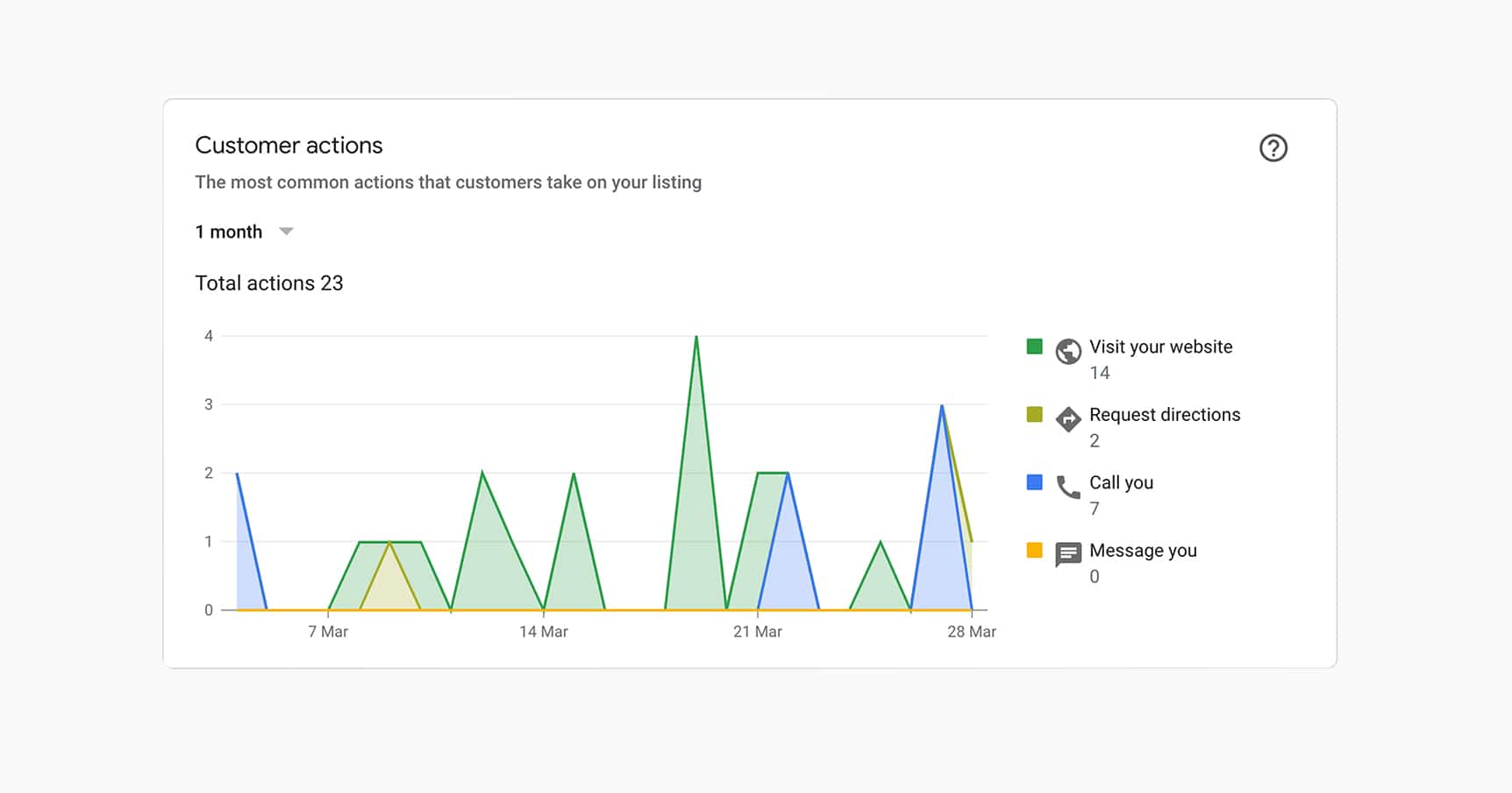 If you boost your local SEO, your business will be more prominently displayed in listings so it can be seen by potential customers looking for specific services in your local area.
Additionally, it:
Increases website rankings: local SEO is intended to improve your search rankings in general, and also to potential customers in your locality. Improving rankings in the Local Pack ensures customers close to you can find you.
Increases online visibility: local SEO ensures customers within your immediate locality see your business listed. It will also show to neighbouring customers, increasing the visibility of your site.
Increases organic traffic to your website: organic traffic is cost-effective and improves the credibility of your site. Organic traffic is composed of users that come to your site directly from a search engine.
Helps you earn more qualified leads: a qualified lead is one that is valuable to your business as it focusses on the quality of the search results, rather than the quantity. It is better to feature in fewer, but more relevant, results.
It will help you outrank your local competitors: good local SEO will help you outrank local competitors by having your site featuring higher on the search returns, and by featuring on the Local Map results.
It helps mobile users easily find your business: mobile phone users can find your business more easily whether it is through search engines, social media channels or through directories. They can also find you on the go by getting directions through their mobile.
It ensures your business is found on Google Maps: this helps people find your business and quickly connect with it. Google Maps can display your business with images, increasing credibility, and encourages people to visit your website.
---
What are the SEO factors that affect local business rankings?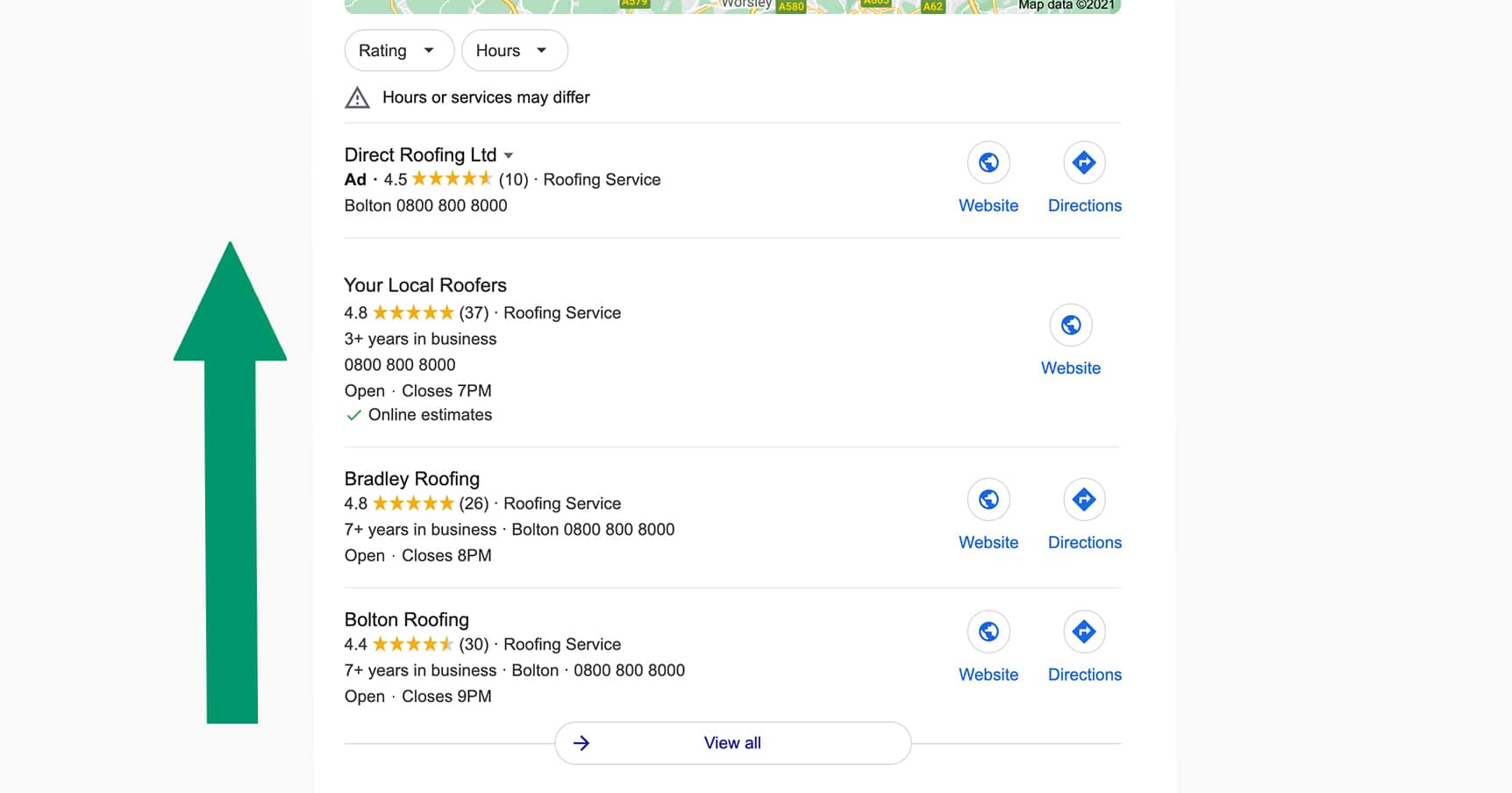 Google My Business: this is a free tool from Google that connects users with local tradespeople through Google Maps. Google My Business uses search algorithms such as contact information, proximity and site content to analyse and decipher where your business should be shown. When searching for local tradespeople, Google My Business is one of the first things they will come across so it is essential to be listed and verified.
On-page signals: vital details such as name, address and phone number will assist in boosting your site's rankings. Relevant on-page keywords that are strategically placed will help search engines to analyse where your website belongs. Relevancy is essential as the right keywords for your industry will improve your rankings.
Online reviews: businesses that receive positive ratings and reviews online will benefit from increased ranking. Positive reviews will show your business is trustworthy, credible, reliable and legitimate. Encouraging satisfied customers to leave positive reviews is a significant part of a strong local SEO campaign.
Backlink profile: backlinks are links to your business that come from other websites. Backlinks from relevant, local and authoritative websites will increase the ranking of your site. Backlinks from pages such as local publications, blogs, local directories, community pages or industry publications are a crucial element to priority placement in search results.
Online citations: ensuring your name, address and phone number are updated regularly and are the same across all directories allows search engines to use citations to confirm the necessary details about your business. Online citations increase the credibility, and therefore, the ranking of your site.
Behavioural signals: google's algorithms use a variety of behavioural signals to determine the ranking of your site. Behavioural signals are the actions your audience uses when engaging with your business. Examples include the click-through rate (how many users click on your website), mobile click to call (a button allowing mobile users to directly call the business), and social media check-ins.
---
What is Google My Business (GMB) in SEO?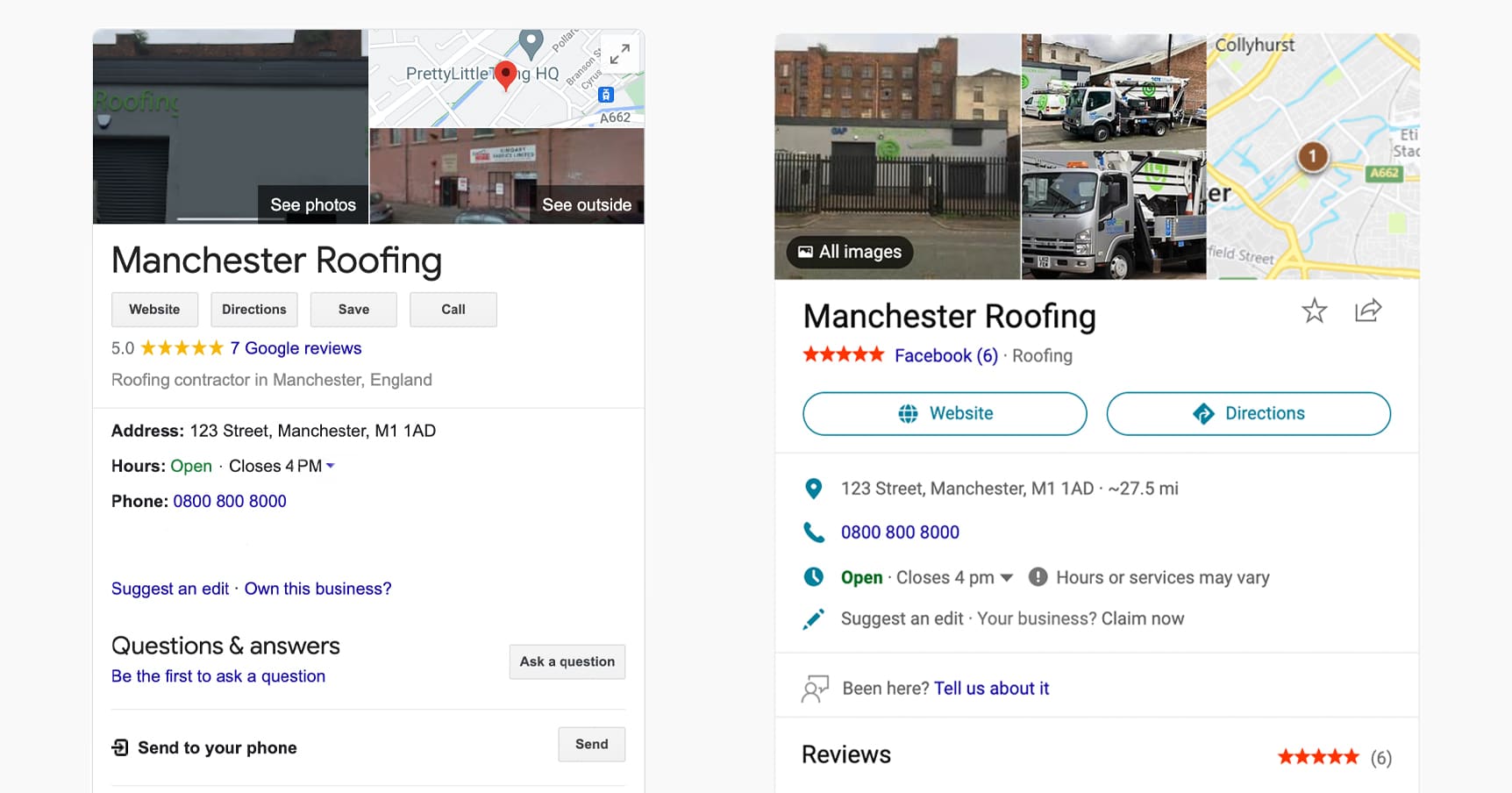 Google My Business increases the visibility of your site on Google's Local Pack and Google Maps. It is a free tool that represents your business; who you are, and your products and services. GMB is an online business directory that allows potential customers to quickly and easily find information on your business, and to connect with you rapidly.
---
What is the importance of GMB in local SEO?
Reach out to new clients, boost your local search presence and engage with customers online with GMB. GMB is available both as a desktop version and app, making it easy to manage your account.
GMB profile setup is essential to get found locally: in order to source customers, your business needs local visibility. GMB allows your business information to be visible in the search results when potential clients are searching for your trade within their local area. This allows your site to dominate the first page on a Google search.
More traffic from local search results (Google Maps): Google Maps allows potential customers to find your business. GMB allows you to input your address and ensures your business is listed prominently to potential clients in your local area and that you are shown on a map with directions from the customer's location.
Capture customer reviews: customer reviews are an essential marketing tool. Positive reviews show that your business is trustworthy and credible. This increases the chance of customers choosing your businesses over competitors.
Two most weighted ranking factors: two important ranking factors are GMB signals: keywords, headings and subheadings, proximity and categories, and link signals: inbound anchor text and linking domain authority.
---
What are the features of GMB?
GMB enhances the ranking of your website by displaying to potential customers exactly what they are searching for in terms of trade, and location.
Business information: GMB shows information about your business and what services or trades you offer. Businesses with verified information are deemed more credible and reputable, so it is important to ensure the details of your business are regularly updated.
Posts on Google: on the GMB dashboard is a section labelled 'posts'. Clicking this allows you to promote your business on a real time basis, allowing you to share updated images, customer reviews, blog posts or advertising. This ensures the platform is updated consistently, which will appeal to potential customers by increasing your credibility.
Operating hours of business: operating hours allows potential customers to have realistic expectations about when they may expect a reply to contact, and what your normal working hours are. It displays to customers the days and hours in which you work allowing them to know if, for example, you work weekends, or out of hours for emergencies.
Freedom in managing reviews: reviews are essential for increasing the credibility of your business. Positive reviews boost your reputation. However, negative reviews could also potentially boost your brand's trust. Prompt, honest and reflective responses to negative reviews show potential customers that you care, and are amenable to feedback.
Google Assistant service: virtual assistants are available 24/7 and give immediate responses to the questions of potential customers. Google designed a personal Google Assistant Service, allowing customers to book your services 24 hours a day, 7 days a week. This allows customers to book a tradesperson during working hours when you may not have access to your mobile or laptop, or during the night when you are having much needed downtime.
Quote requesting: if your business offers individual or a package of services, GMB allows your potential customers to request a quote. This allows them to see whether your services are within their budget, and also offer a quote tailored to their personal needs.
---
How can you optimise your Google My Business for local SEO?
Optimising your Google My Business listing is vitally important. After the creation and design of your website, Google My Business is the second most important factor to optimise your site, and here is how to do it:
Verifying your business: when you set up Google My Business, the first thing you will be asked to do is verify your business. After entering the name, address and phone number of your business, Google will send you a four digit PIN. This will be sent in the post to the address you registered and can take up to 14 days to arrive. As soon as you receive your PIN, follow the link that is provided and enter it so that Google can confirm your business is legitimate and the registered address is verified.
Fill out your profile completely: after verification of your business, you can fill out your full profile. There are many fields to complete and a number of them are optional. It is up to you if you complete the optional fields, however, the more information you can provide, the better. If you do not fill in all of the fields, Google gives the option for others, such as your competitors, to fill them in for you. Add your name, address and phone number, plus operating hours, photos and details of services. Remember to make your profile rich with keyword descriptions.
Make sure your profile information is (and stays) accurate: it might seem obvious, but it is important to ensure all information you add is accurate and that it is updated regularly to remain so. The credibility of your business can be damaged by out of date information such as missing or disconnected phone numbers, the website being down, location listed incorrectly or not at all, and emails bouncing. Make sure your service area is accurate. One of the biggest ranking factors is the distance from your address to where your potential customers are searching.
Pick the most relevant categories: selecting the most relevant service categories is the single most important thing you can do on your Google My Business profile. There are almost 4000 categories to choose from and you have the option to select up to one primary, and nine secondary categories. Category selection is the feature that will determine whether your listing is displayed on a Google search. Ensure you have the most relevant primary category selected. This can boost your listing by up to 5 to 10 places on search results. The categories you select will determine what searches you are eligible to rank for, so choose them carefully.
Include semi-professional pictures: another important factor in your Google My Business listing is having multiple images. Pictures show that your business is legitimate, and can showcase your work and help build credibility. Always ensure the pictures you use are your own. Include semi-professional pictures that are high quality. Include pictures of both your previous work and also your team. Adding the human aspect and showing the people behind your business will attract visitors. Ensure photos are updated regularly with fresh material to show you are still active. Monitor the engagement stats on your photos to see what images get the most attention.
Get more reviews: getting more reviews can really help improve your Google My Business rankings. Reviews also help you rank on Google Maps and will increase your click-through rate. Aim to get as many positive reviews as possible. Both the number of reviews and the average star rating will be used in an algorithm that determines what businesses are ranked highest. Create an email campaign that follows up with past clients, asking them to leave a review. Reviews must be legitimate, Google can tell if reviews are biased or not honest. Aim for quality reviews over the quantity of reviews.
Take advantage of posts on Google: Google My Business allows you to create interactive posts that appear in search results. High quality posts that result in a high level of engagement will drive traffic to your website. The posts can link to a blog or article on your website, or things like promotions, sales, events or courses. Content should be up to date, you should post to Google My Business just as you would to any other social media channel. Track the performance of your posts to get to know what type of posts get the most engagement and those that optimise your listing the most.
---
What is on-page SEO?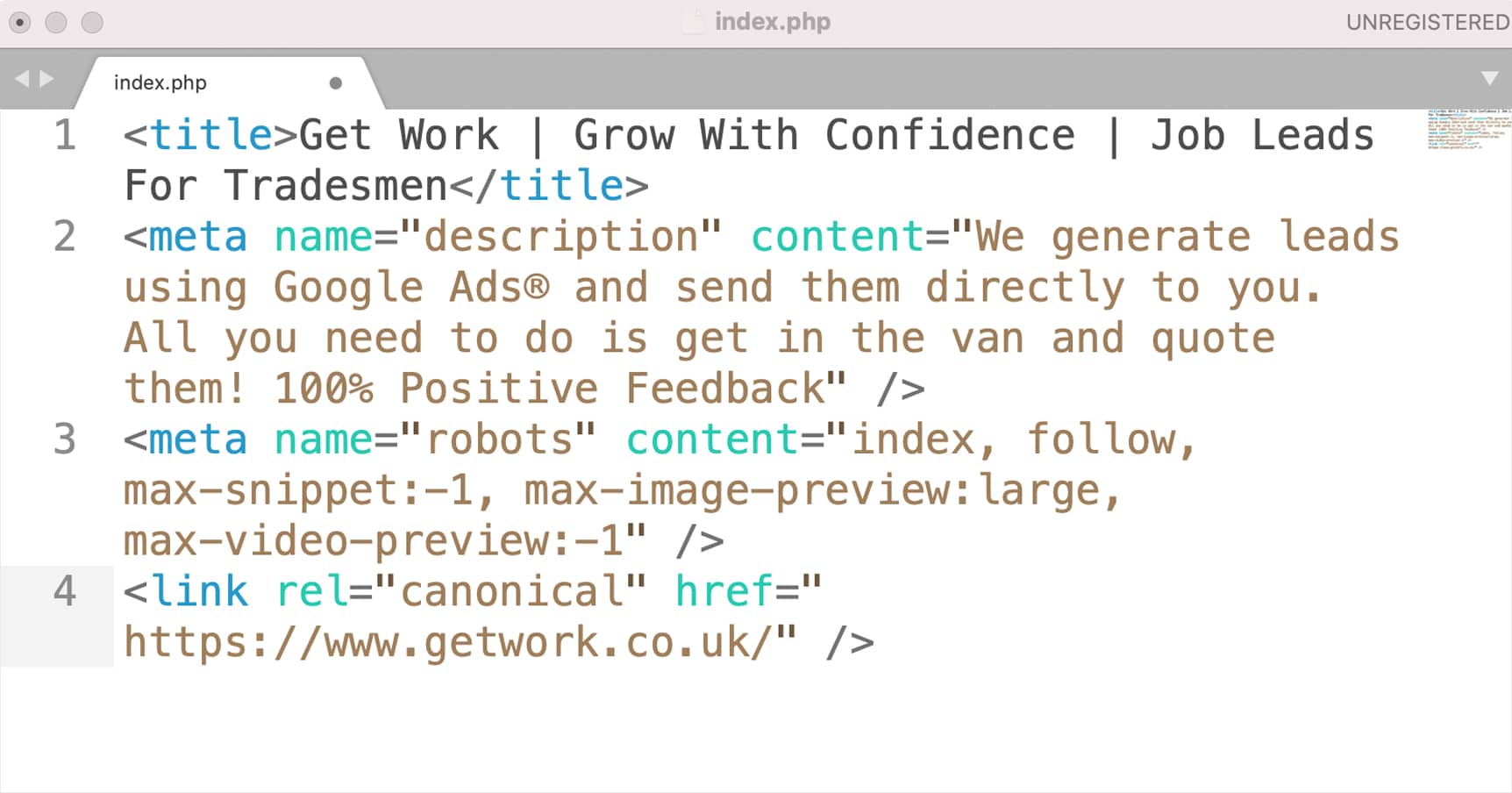 On-page SEO refers to the optimisation of both the content and the HTML source code of a page. It helps search engines interpret the content of a page, as well as helping potential customers quickly understand what the page is about. It helps both the search engine and user to view high quality, relevant content.
---
What are on-page ranking factors for local SEO?
The way you optimise your webpage can have a huge impact on its ranking. There are a number of on-page factors that influence search engine rankings including:
Content of page: it goes without saying that the content of your webpage should be relevant, credible and accurate. The content is what makes the page worthy of a search engine ranking. Good content should supply the largest demand from searchers. So as a tradesperson, it must be highly relevant to what your customers are looking for. It can be an image, video or text. The content must also be linkable. If people cannot link to it, then search engines are unlikely to rank it. Content that is behind a log in or the need to register will not be linkable which will negatively affect rankings.
Title tag: the title tag of a web page is an HTML element that specifies the page's title. These tags are shown as the clickable headline on search engine results pages. The title tag should be accurate and have a concise description of the content on the page. To optimise the title tag, it should contain a primary keyword, secondary keyword and brand name. The first 50-60 characters of a title tag are displayed on search results, so these characters should be highly relevant. Even if your site ranks well, if your title tag is not engaging, it can be a limiting factor in driving traffic.
URL: the category hierarchy of websites should be reflected in its URL. A URL is commonly known as a web address. The information in the URL is used by search engines to determine its relevancy. Good URLs should be relevant to your business, including the trade, location, or business name. The structure of a URL is important, as it helps search engines to understand the relative importance of the page. A good URL is also helpful from an anchor text perspective as potential customers are more likely to click a URL that contains keywords that they are looking for.
Image alt text: adding alternative text to images is also known as 'alt descriptions', 'alt attributes', or 'alt tags'. It is HTML code that is used to describe the function and appearance of an image on a page. It boosts accessibility, particularly for visually impaired users. Furthermore, it also helps search engines to index an image correctly. The best alt text format is a good description, but not overly stuffed with keywords. Search engines are not able to 'see' images. However, they can read the alt text and understand the relevancy of the image which allows them to determine the ranking factor of the image.
Page speed: page speed is concerned with how fast the content on your page loads. This can be evaluated with Google PageSpeed Insights. Page speed is measured by Google and is one of the signals used by its algorithm to rank pages. A slow page speed can negatively affect the ranking of your page. Optimising your code and formatting can dramatically increase your page speed. Images can slow your page speed, so ensure they are optimised and no larger than they need to be. Improving the server response time such as looking for performance bottlenecks like slow routing, a lack of adequate memory, and slow database queries can optimise your page speed.
Domains: domain names are the internet addresses of websites. They are broken into three parts: a top level domain, domain name, and optional subdomain. The top level domain is the suffix at the end of the domain name, such as .com, .co.uk, .org. There are over 1000 top level domains. The domain name is purchased from registers. They are used as a factor in rankings and usually relate to your business. The subdomain is in front of the root domain and is usually www. Domain names should be short and easy to remember and can include keywords.
Physical address: a physical address improves your website's overall trust score. The address should be in a section describing the areas you cover, plus in the footer of the page and on the contact page. Having a physical address will boost your rankings on Google Maps. When customers search for a certain service or trade and name a city or location, you can rank highly if your physical address is in the area searched.
Meta description: the meta description provides a brief summary of a webpage that is displayed in search results. The meta description does not factor into Google's ranking algorithm, but it can influence the click-through rate which in turn positively affects rankings. A meta description should contain keywords and a description that makes users want to engage and click. They are limited to around 160 characters and it acts as an advertisement for the content on your page. They should be long enough to be descriptive, but short enough to be displayed in full on the search engine results page. The primary aim of meta descriptions is to drive click-throughs.
---
What is local SEO keyword research and is it important?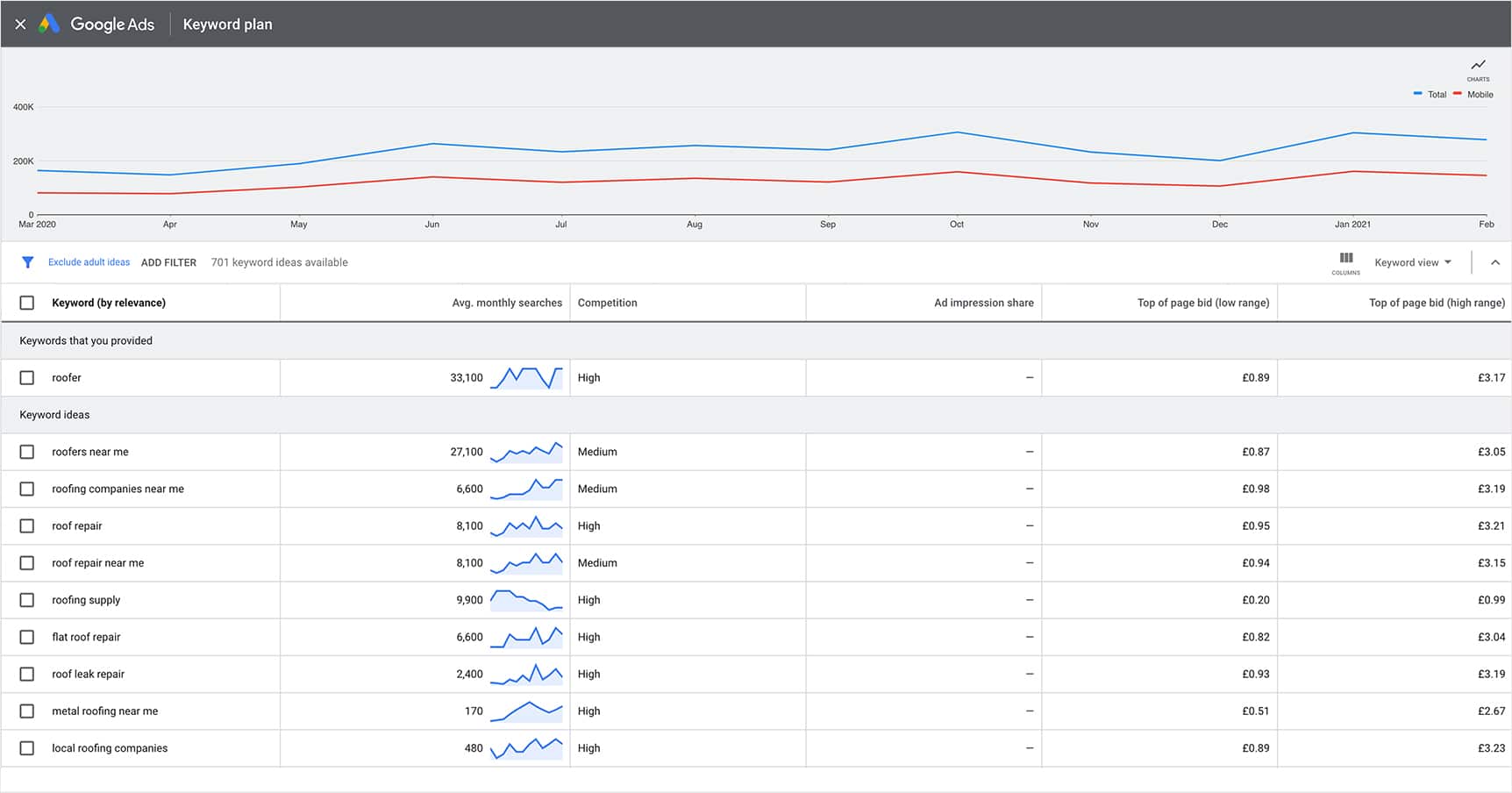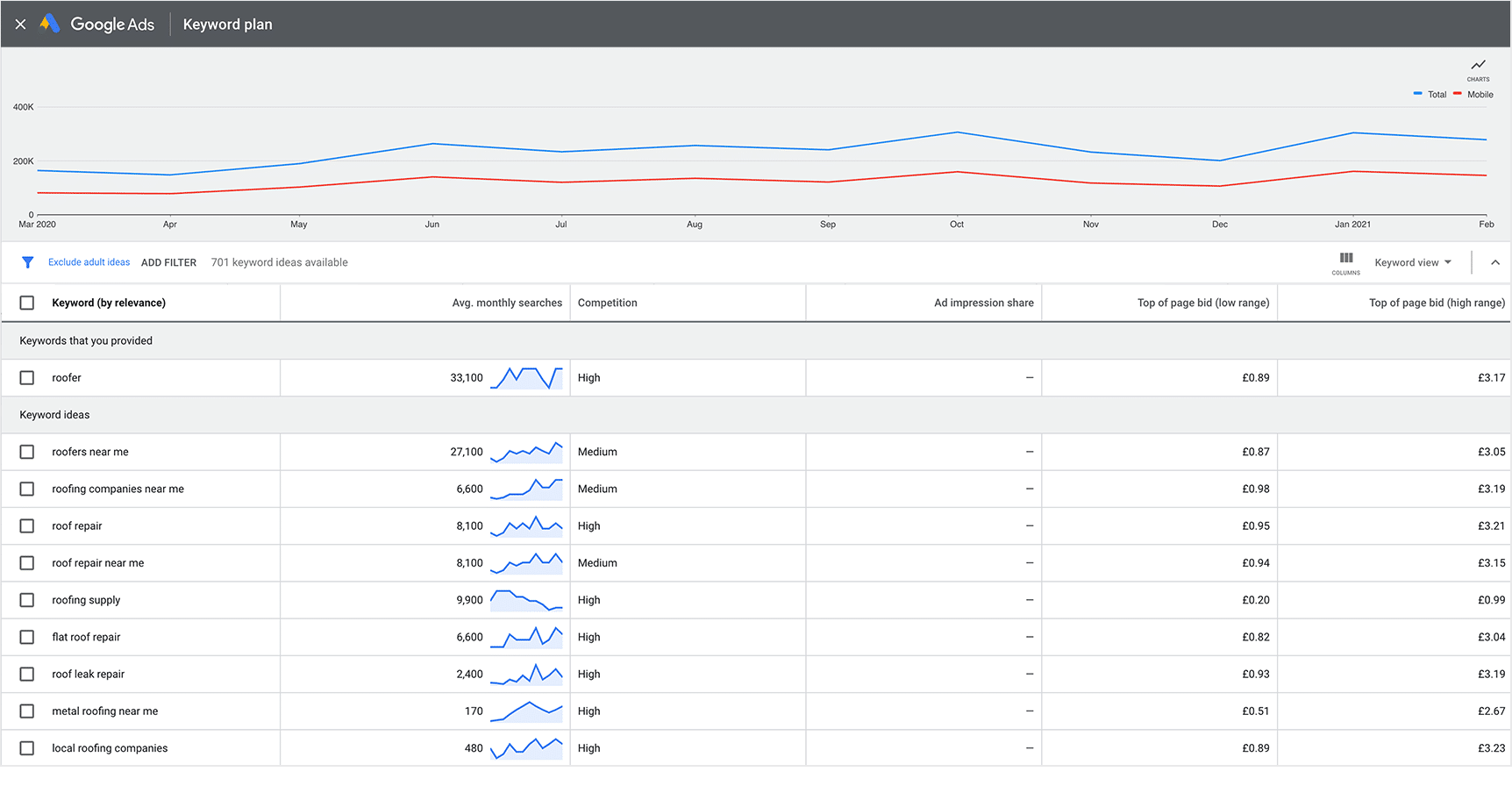 SEO keyword research is crucial for ensuring higher search rankings and more organic traffic to your site. SEO keyword research can be the difference between your site being lost in thousands of results or being a top search engine listing. Keywords are what people will search for, and what search engines use in their algorithm for ranking.
Keyword research should never take a backseat and there are some tips on how it should be done for the best local SEO:
Head keywords vs. long-tail keywords: keywords are divided into two categories; head keywords and long-tail keywords. Long-tail keywords can bring more potential customers and targeted traffic as they are easier to rank. Head keywords can be very difficult to target successfully. However, when competing against fewer local competitors, targeted head keywords can help you get ranked higher. Head keywords and long-tail keywords should be integrated correctly. Long-tail keywords are what will bring the most targeted customers that can lead to increased organic traffic. Rather than single words like head keywords, long-tail keywords consist of short descriptive phrases that people may put into search engines.
Keywords and local areas: when considering SEO keyword research, you should think about adding the name of your location into your keywords. As a tradesperson, you may have a geographical area that you cover. Adding the towns, cities or counties you cover as keywords can help bring more targeted and relevant traffic to your site. Local keywords contain location-specific phrases that will drive people in your area to your website. Google is now taking a more local-first approach when it comes to returning search listings, favouring businesses with a local listing in proximity to the person performing the search.
Think like your potential customers: when performing SEO keyword research, it helps to think like your potential customer and consider what they may be searching for online. Think about what keywords they may use and how they may refer to your particular type of business or trade. Consider what they may be most interested in and whether they want the best quality or the cheapest quotes. Customers may Google long-tail keywords such as 'best tradesperson/carpenter/handyman in London', or 'cheapest plumber/builder/plasterer in the London area'.
The lingo: you are the expert in your trade. You are likely to use technical lingo that may differ significantly from what potential customers search for. For example, your customers may search for 'carpenters', whilst you consider your trade to be more 'cabinet maker'. The services may be the same, but the keywords aren't and that could be the difference between potential customers finding your webpage or not. Familiarise yourself with the language and keywords potential customers will search for and ensure you use them to help reach your target audience.
Keyword tools: brainstorming and researching keywords is all well and good, but they won't be particularly useful without data on how the keywords drive traffic. There are a number of tools available that can greatly help your keyword research for local SEO. Some of these include Google Keyword Planner for finding search term volumes, SEMRush, and Google Trends.
---
What are the benefits of online reviews?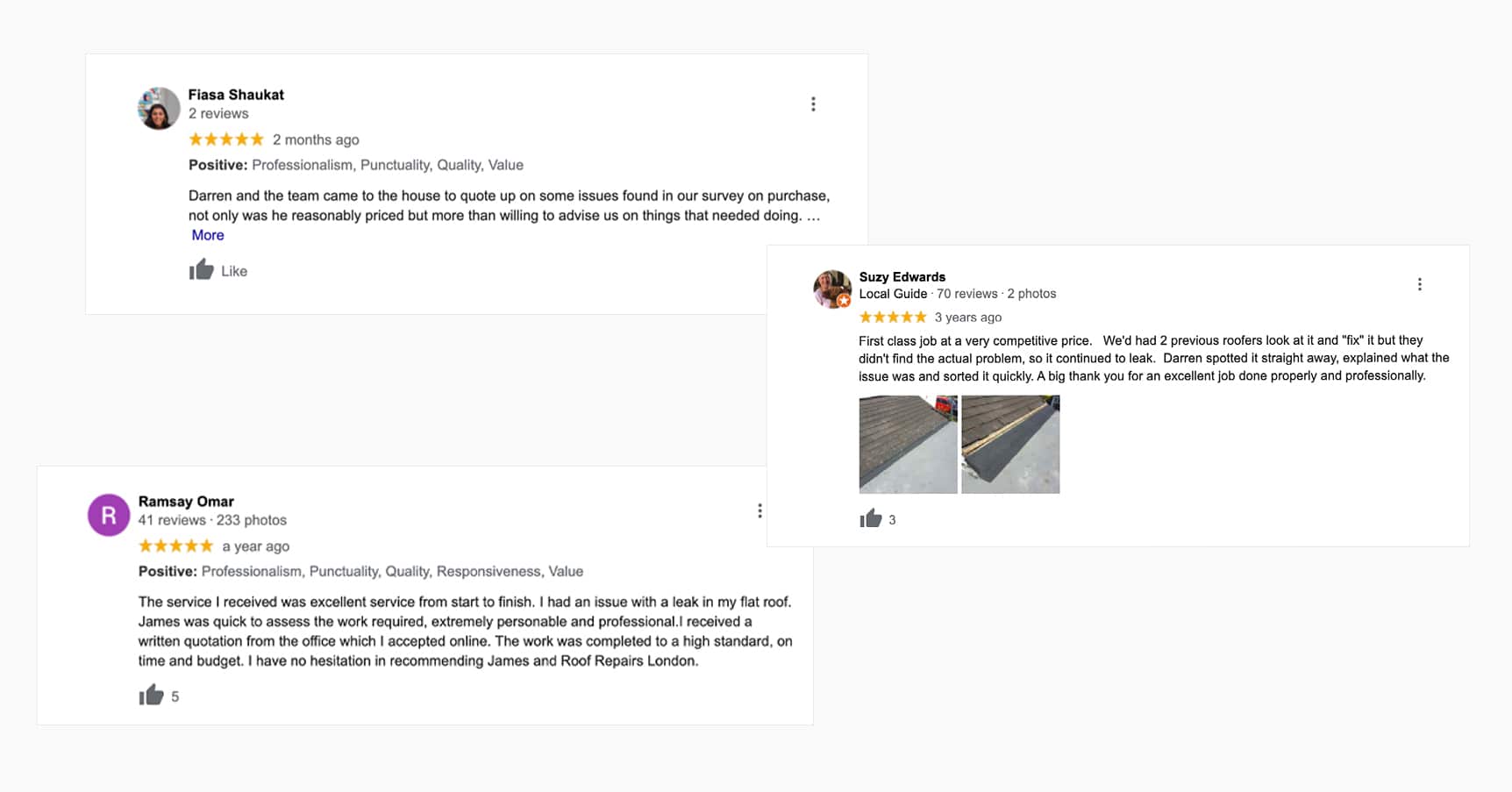 There are a large number of online review sites now as customer reviews grow in importance. Reviews have become an integral part of building reputation and credibility as well as having the following benefits:
Trust: customers trust online reviews. They create transparency and allow visitors to gain even more knowledge about a business and its services. People trust reviews from complete strangers as they view them as unbiased opinions that are there to help them make a decision on whether to book a service. 91% of people trust online reviews as much as personal recommendations. Additionally, 57% of customers will only choose businesses that have a rating of four stars or higher. An abundance of high quality reviews can result in more customers for your business.
Earn more: studies have shown that consumers are more likely to pay around 31% more on services if there are excellent reviews backing the business. Customers are likely to pay more when they are assured that they will be getting a quality service, and positive reviews from their peers will help them when making the decision on whether to choose you as a tradesperson or not.
Traffic: studies have shown that online reviews can have a huge impact on click-throughs and increase organic traffic to your site. Boosting your rating from 3 stars to 5 stars results in an increase of 25% more click-throughs, whilst those with 5 stars have 39% more clicks than businesses with 1 star. A 3 star rating or higher has been shown to have a positive impact on click-through rates, whereas those with less than 3 stars had fewer click-throughs than businesses who had no star ratings at all.
Growth: in 2020, 87% of consumers read online reviews for businesses and more than 70% trust these reviews. Positive reviews increase confidence in your brand, which in turn makes customers more likely to choose you over competitors. Good reviews about your business will inevitably result in business growth as customers will choose you as a tradesperson if they know you to offer high workmanship, excellent quality work, and great customer satisfaction. Think of online reviews as the new 'word of mouth'.
More sales: A study by Harvard Business Review looked at the impact of positive reviews on revenues. They found that each additional positive star rating translated to an increase in revenue of between 5% and 9%. The study showed that the more information businesses offered to customers, such as customer reviews, the more data the customer has to help their decision-making. Reviews are just one piece of the reputation puzzle. But a piece that should never be neglected if you want to increase sales and revenue.
Better search position: the quality and quantity of your reviews will be a factor in determining your search engine ranking. Just as customers use good and bad reviews to make decisions about a business, search engines do the same. Search engines want to help customers find the right service, business or trade and in the timeliest manner. Customer reviews are used in algorithms to sort the good businesses from the bad. The more four or five star ratings your business receives, the better your search position will be as your business can confidently be shown in a premium, high visibility location.
---
The impact of negative reviews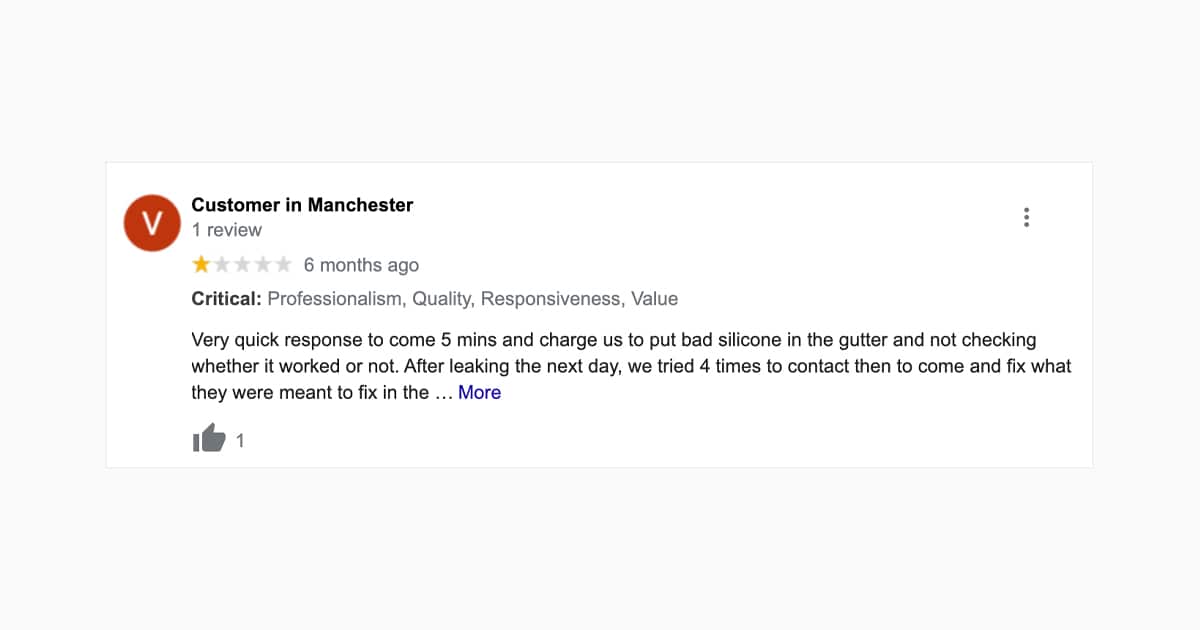 Making customer satisfaction an essential consideration for your business will help sales, however, not every customer will leave positive reviews. Negative reviews can damage your credibility in the following ways:
Trust: negative reviews can damage the prestige, credibility, profitability, and most importantly the trustworthiness of a business. Customers want to know that they are investing money in a service that will meet their expectations, and poor reviews can make them lose trust in your brand.
Less sales: around 22% of customers can be driven away by a single negative review. Three negative reviews can put off 59% of potential customers. This will result in fewer sales or bookings. So it is important to ensure your reviews are as positive as possible whilst still being authentic. Businesses with poor reviews could be driving away customers without even knowing a consumer had considered them.
Less profit: a single negative review could cost your business customers, with 40% of consumers saying reading a negative review makes them want to take their cash elsewhere. 40% of consumers consider taking their money elsewhere after reading a single negative review. Whilst negative reviews can't always be helped, the way the company responds to that review has an impact on whether customers would use them.
People hesitate to purchase from businesses with no reviews: online reviews can drive a customer either towards or away from your business. People expect to see reviews for a business online and will use these to make a decision on whether to use your services or not. If a business has no reviews, it can be negative for a number of reasons, including poorer SEO, and also not giving customers trust in the brand.
Potential customers will not purchase from a business with negative reviews: a massive 86% of customers can be lost if they read negative reviews about your business. Often, you will not even know they considered your business in the first place. Negative reviews can turn customers away without them even clicking on your page or making contact.
---
What's a good local SEO strategy for reviews?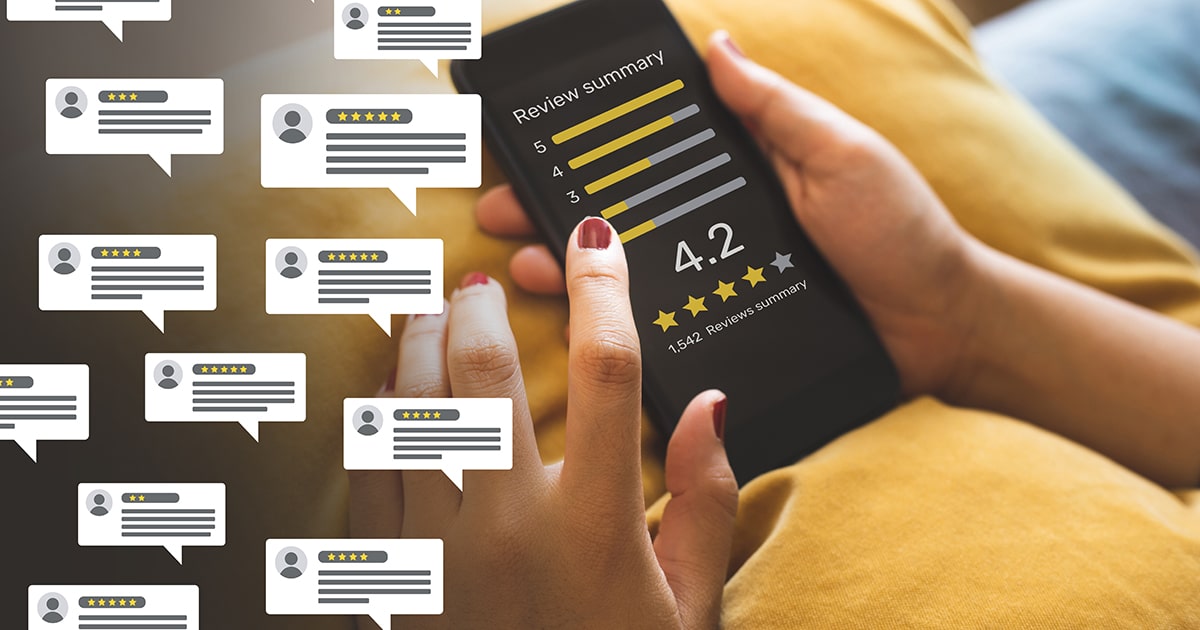 Developing the internet reputation you need to instil trust in your customers takes perseverance, ingenuity and creativity. Different strategies work better for different business models, as described here:
Post-visit emails: collect email addresses from customers and clients, and follow up with a post-visit email after you have completed their work. An email a few days later asking them to write a review about their experience and giving them a choice of platforms in which to leave their review is a good strategy.
Post-service flyer: not every customer will be able to find the best way to leave a review, even if you sent a post-visit email. A post-service flyer leaves customers with a reminder of your business which can describe the best ways they can leave a review online. This is bound to garner you more reviews than leaving customers to figure out the best way to review you online themselves.
SMS notifications: if your customers are happy to give their mobile number and are happy for follow-up messages, a simple SMS notification with a link to a review site can prompt customers to quickly and easily click the link and leave a review. People tend to have their mobiles on them a lot of the time and an SMS notification is likely to be picked up quicker than an email.
Feedback form at checkout: if you have a brick and mortar building, you can create simple feedback forms and ask customers to complete them after checkout. In-store signage such as banners, business cards and flyers can communicate your desire for feedback. Additionally, QR codes or interactive media displays can allow customers to quickly and easily leave a review.
Website review landing pages: on your own website, you can create a link to showcase your third-party review profiles. This gives customers an alternative place to leave a review if they don't want to leave it directly as a testimonial on your webpage and helps them find review sites easily. When customers see how many other customers have left a review, it can encourage them to do the same.
Asking directly: encourage your staff to mention directly to customers just how much a review would be appreciated. Try and make the request sound natural rather than forced, using your discretion to say to happy customers that a review would be greatly appreciated to help showcase and promote your work.
Email signatures: when communicating with customers online, add an email signature with a link to your review page. This gives them the opportunity to read reviews that have been left for your business and hopefully add their own. Having multiple options for review platforms allows customers to choose the link for the platform they already hold an account with.
Link on invoice: after you have completed work for a customer, you will usually send an invoice. This is often a digital invoice. Add a link somewhere on the invoice, asking customers that if they are satisfied, could they please leave a review to help spread the word of the services you offer.
---
Tips for earning more local business reviews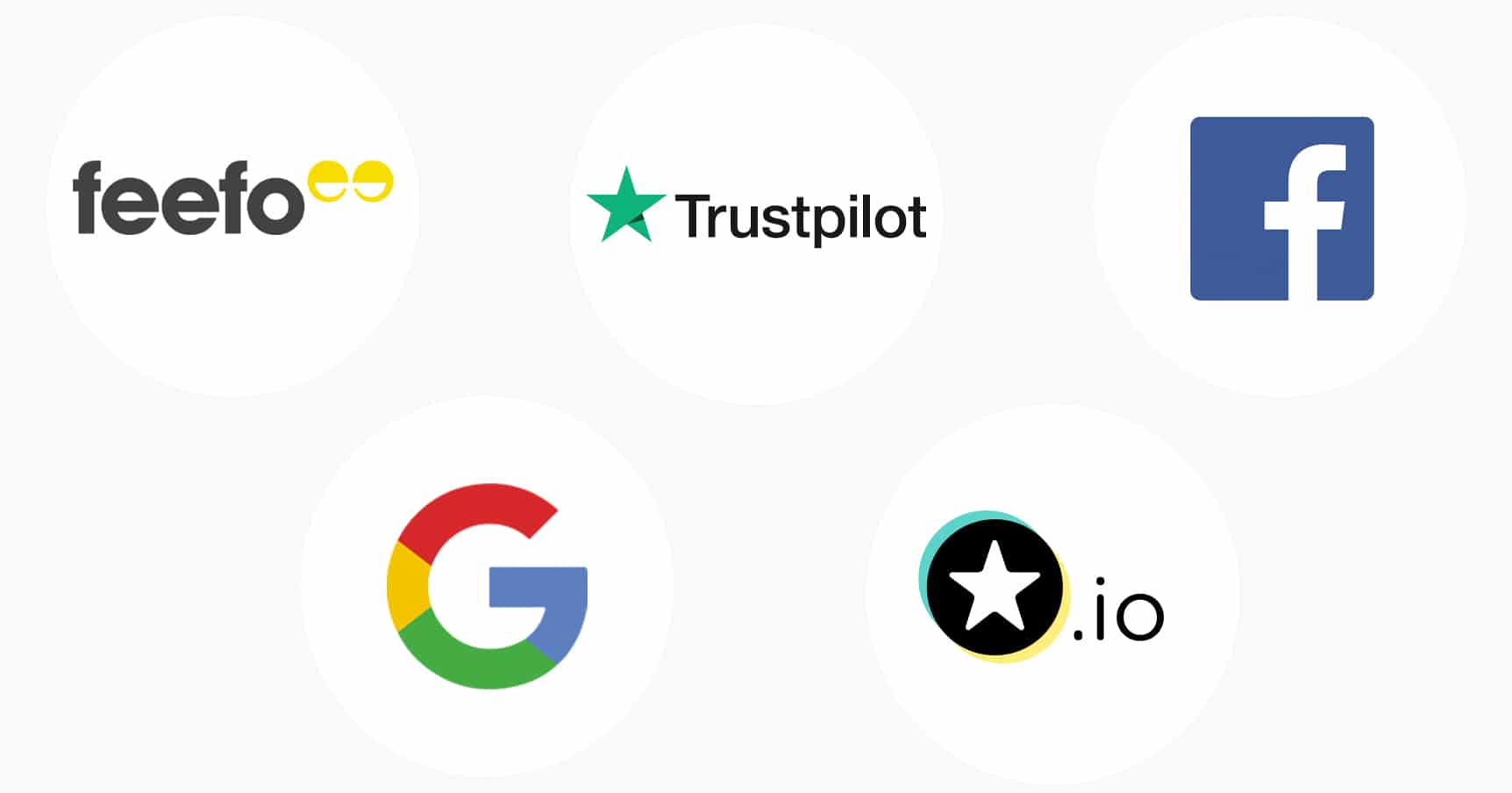 After creating a list of the most important review sites that are relevant to your business, it is time to create a strategy for getting more local business reviews. There are a number of strategies that work well to help you build your online reputation:
Deliver the best customer experience possible: Surveys have shown that 25% of consumers only leave reviews if they had really good service. Very positive customer experiences drive most reviews so it pays to deliver the best customer experience possible. Ensure your customer service policies, staff training and quality control measures are regularly reviewed to ensure your business exceeds the expectations of customers. This is the basis for any strategy for earning positive reviews.
Collect Email addresses at the time of service: collecting email addresses from customers at the time of service is a powerful practice that can boost local business reviews. If a customer is willing to share their email address, follow up with them in a couple of days and ask whether everything was to their satisfaction. If not, ask what you can do to help resolve any issues. If they are happy, politely ask if they would be willing to leave a customer review to share their experience of your business.
Train staff to verbally mention how much a review would be appreciated: staff should be trained to naturally and confidently ask customers to leave a review if they are happy with the service they have received. Encourage them not to just reel off 'rate my service' to every customer if there are other customers nearby, it can be off-putting to customers to hear that ad infinitum. Building a rapport with customers can mean asking for a review is more natural rather than forced.
Consider sharing a nice and simple review handout at the time of service: not all customers are au fait with technology. Some may not want to give their phone numbers or email addresses for follow-up, so consider creating a simple handout that can be left with the customer at the time of service. Create something that shows how they can easily leave a review based on the service they receive. A handout with details on how to leave a review is likely to generate more reviews than simply expecting customers to figure out the best way to review you themselves.
Showcase links to your third-party review profiles: create a separate page on your website, or add regular links throughout your current pages that have links to your third-party reviews. There are widgets available that can be placed in the footer of your webpages. This makes it easier for potential, current, and past customers to see what others are saying about your business. It will also prompt them to leave their own review when they see how many others have left feedback.
Use social media to ask specific questions: by using social media, you can ask specific questions about aspects of your business, directing followers to different review platforms to leave their answer. An example could be a plumber asking followers what the worst mess the team got them out of (such as a burst pipe on Christmas Eve, or a blocked toilet on a Bank Holiday weekend). This gives customers ideas on what they can write as a review, sharing stories about your service after it is suggested to them through specific question formats.
Respond to as many reviews as you possibly can: review sites allow you to respond to reviews. Your most important consideration is to respond well to negative reviews. Then, when you have time, respond to positive reviews, thanking customers for their feedback. Avoid impersonal responses, each thank you should be uniquely worded. Customers seeing businesses respond to both negative and positive reviews shows that you genuinely care about customer satisfaction and consumer sentiment. It also gives an incentive for other customers to share their experiences.
---
What is a backlink?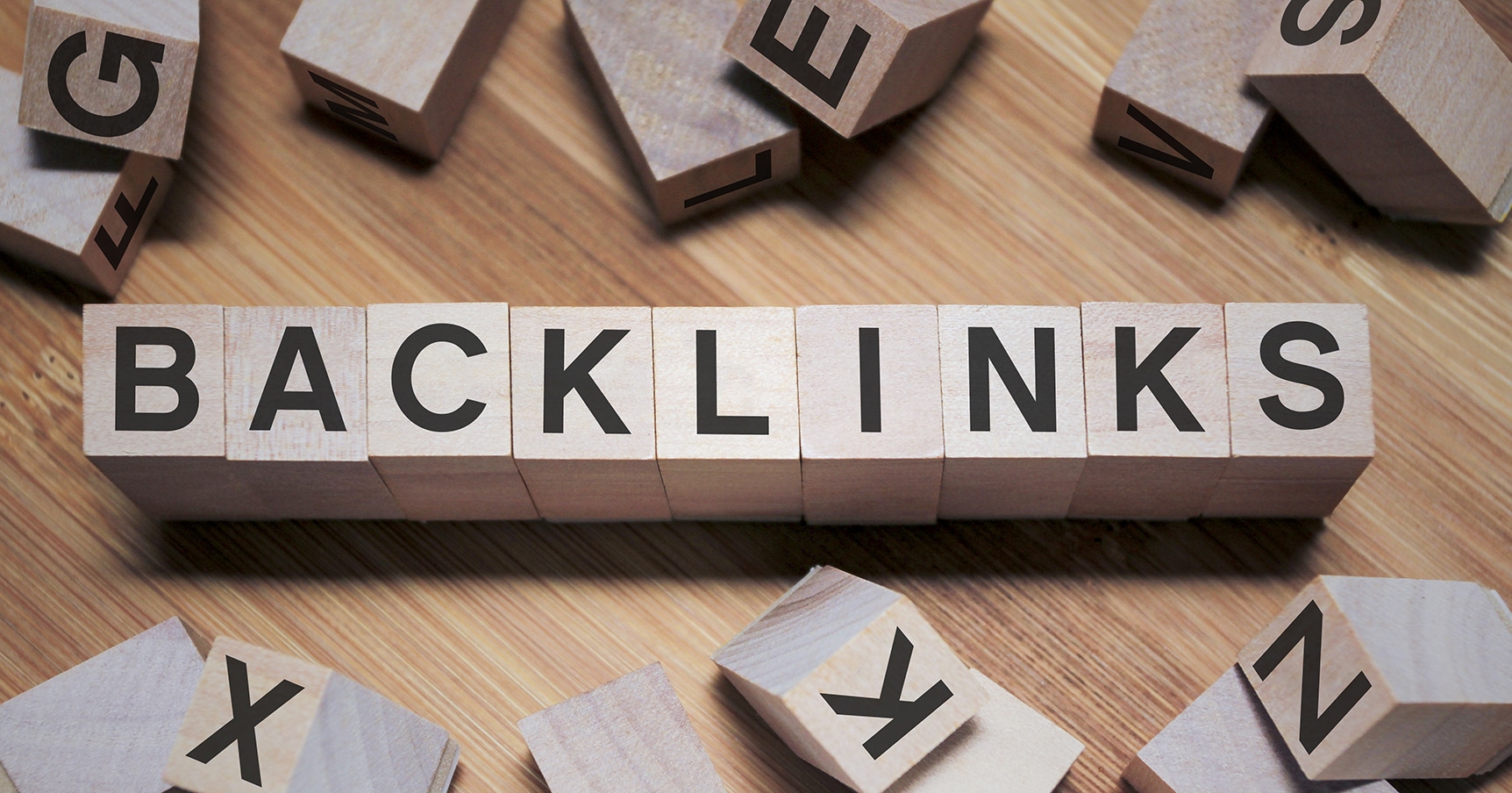 A backlink is when one website links to another. They can also be called 'incoming links' or 'inbound links'. Backlinks have a positive effect on SEO, as they show search engines that your site has content that is worth linking to, increasing its credibility and trustworthiness.
---
Why are backlinks important?
Good for SEO purposes: backlinks show a vote of confidence from another website. If many sites link to yours, search engines confer that your site has content that is worth linking to, increasing your sites search visibility and ranking. Backlinks are a signal to search engines that other websites vouch for the content on your website.
Links drive traffic: people reading content on another website may follow a link to your site, driving additional traffic. A study has shown that up to 91% of websites never get any organic traffic at all, with all traffic to their site being driven by backlinks. Up to 85% of sites have between 0-3 backlinks. Backlinks also increase your local ranking, making it easier for searchers to find your business.
---
What does a high quality link look like?
There are a number of factors that you want to consider when creating a high quality link. The more of these factors you can get from one link, the higher the quality of the link:
Links from a site in the local area you are targeting: earning quality backlinks can correlate with the relationships you have with local businesses in your area. You want sites that are local to you to add a backlink to your business. This could be a local directory or association, local online meetup pages, or similar local non-competing businesses.
Links that are relevant to the business industry: you want your backlinks to appear naturally and not forced. That means you do not want to advertise your trade on, for example, a local restaurant webpage, or pet website, unless you have done work for them and they are reviewing you. Aim for backlinks on websites that are relevant to tradespeople and those seeking a tradesperson.
Links that will drive relevant traffic to your website: following on from the last point, you want your links to appear on webpages that people seeking your services may find themselves on. This could be manufacturers, suppliers and tradeshow websites that are relevant to your business.
Links that build your brand's reputation: for eg industry associations, well-known magazines, sites, or other resources in the industry, etc. The websites your backlinks feature on need to be high quality, relevant and trustworthy. The better the reputation of the website, the better the reputation your brand will have. Stick to trusted websites such as directories, trade magazines or associations, tradeshows and popular blogs that have a good following.
---
How do you get backlinks?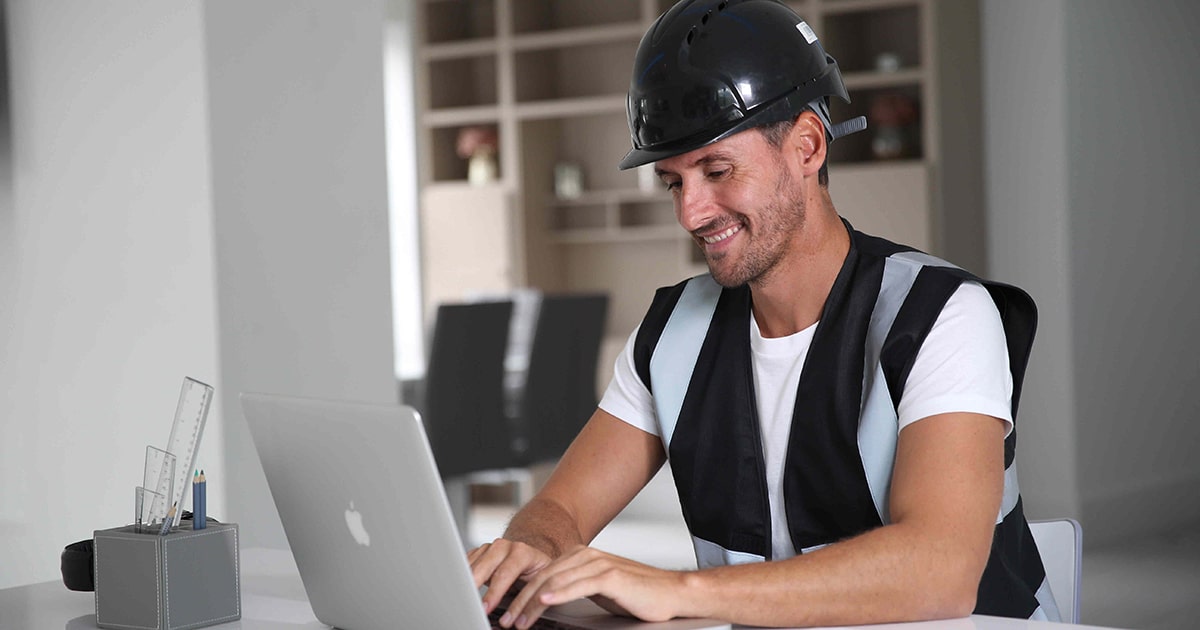 Gaining backlinks can be difficult. It involves researching competitors backlink profiles, searching for broken links, and researching sites in your niche. Here are popular ways to get backlinks:
Google My Business listing: creating a Google My Business listing is free and helps you get shown on a variety of Google searches as well as Google Maps. A Google My Business listing gains you a backlink to your local landing page directly from Google. Google is the modern leader of the internet, and no other site has the same SEO metrics. Backlinks from sites with high scoring metrics will boost your own SEO metrics, increasing your sites credibility, reliability and trustworthiness. A Google My Business listing should be the first thing you create to gain backlinks.
Local press: 67% of people rely on their local press for local news. Most people now access local news through their local newspaper's online website. This creates an ideal opportunity for creating a quality backlink. You could get a backlink on their content calendar, or through hosting a local event or special offer. You could also write a press release about relevant local news. Local press websites are already locally-optimised with an established audience, plus there's a good chance they have great metrics which in turn will increase your own SEO metrics.
Sponsoring local business: show your support to local or new businesses in your area by sponsoring them. You could use this sponsorship to garner local press backlinks as described above. You do not have to invest a load of your profit in order to sponsor a local business, sponsorship could be as simple as being mentioned in the 'We work with…' section of the business, or displaying ads on their webpage. Local business backlinks may not have the best SEO metrics tied to them as they are smaller sites, but they're still worth having as the backlink could still improve your SEO metrics.
Connect with local directories: big directories often have great metrics scores for SEO. However, a big drawback is that they are not local, so are unlikely to be the best option for local SEO link building. They may have sections dedicated to your local area, so it is still worth having a backlink. A better option would be a local directory. These are websites that share information on businesses in a local area. These directories will already have a good reputation in your local area, so the backlinks to your site will come from a site that is already optimised and ranked for local keywords.
Harvest link opportunities regularly: to earn links, you need to create a list of opportunities. This should be done regularly to keep your backlinks up to date. Harvesting link opportunities can be done by opening Google and looking for different websites in the area and in the industry your business serves. You can put different keyword combinations, or use a programme. This can help you discover a variety of backlink types and select a diverse backlink profile with high quality backlinks.
Be the first to reach out: it is not worth looking for backlink opportunities unless you are going to act on your findings. Once you have a list of potential prospects you need to reach out directly to the website owners. Before reaching out, make sure you have a good reason to request a link by ensuring you have quality and relevant content on your own site. Website owners are more likely to link to content that is informative, that is relevant to their local area and industry, and that will benefit their visitors. Before jumping in and asking for a backlink, you could reach out and start a conversation with them about the work they've done, or their content.
Visit your prospect's location: earning high quality backlinks comes down to relationships. And the benefit of local SEO is… that it is local! The better the relationships you can build, the more backlinks you could get. So go out and meet people! It is an effective way to begin a positive relationship and gain backlinks. You could go to local meetups, suppliers, manufacturers, networking events, conferences and tradeshows, or to non-competing businesses. Strike up a conversation about your business and show an interest in theirs. This could be the first step to quality local backlinks.
Find local business directories: citation building is an important part of local SEO. Any time your business name, address and phone number are listed together is a citation. Local business directories such as Yelp, plus industry-specific directories are the easiest way to build citations. Opportunities for citation building can also be found by looking for new directories. It can also be done manually by performing searches such as 'Location "add your site"', 'Location "recommended links"', or 'Location "directory"'.
Track your efforts & reward your linkers: after you have earned a link, don't let the relationship with the site owner lapse. You should continue connecting with them, maintaining the relationship. Using a programme such as Ahrefs or MajesticSEO, you can monitor your backlinks, checking they are still live and haven't been switched to nofollow. Rewarding your linkers could be as simple as a 'thank you'. This shows you appreciate their efforts and a small effort like that could make a big difference in your rankings.
Business directories: the golden rule with directory backlinks is that you need a variety of them from different types of websites. Big directories such as Yell and Yellow Pages can give great brand awareness, but not necessarily locally. Niche directories are sites that are specific to your business, such as trade directories. Having a mix of big directories, niche directories and local directories gives you a number of backlinks that point to your landing page creating natural SEO behaviour which will be rewarded by search engines.
Share local resources: not everyone who searches online is ready to buy something or book a service. They search for many reasons, including to find general information about a topic, or to have a question about their local area answered. You can gain backlinks by creating and sharing local resources, such as blog posts that give a round-up of things to do and events in your area. Within the piece, you can add an internal link to your landing page. Ensure the piece is optimised with long-tail keywords to help people find the piece. This helps search engines to recognise you are covering a topic in-depth which in turn makes your site more valuable.
---
What is a local citation?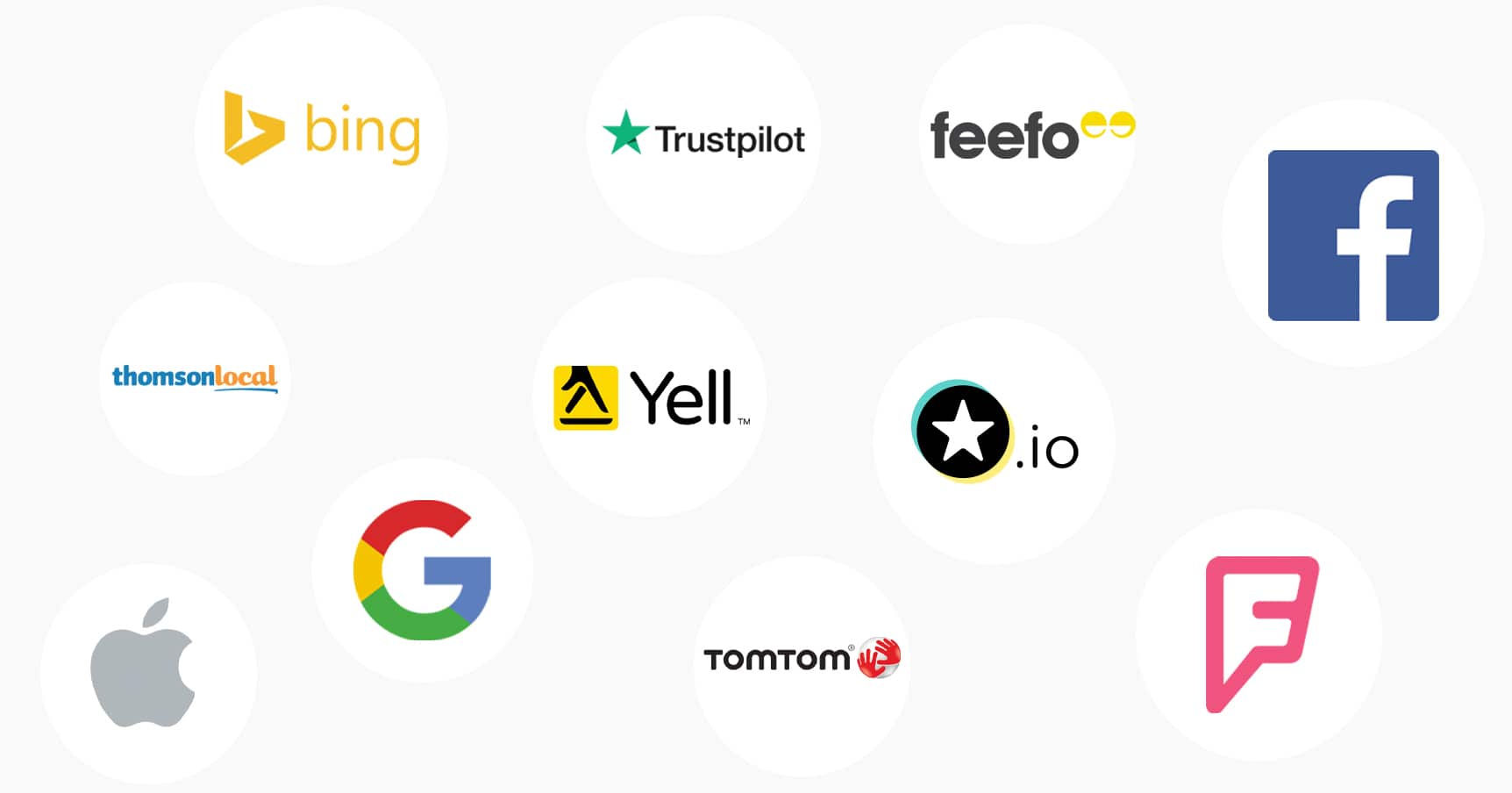 A local citation is any mention of your NAP online. They can occur on websites, apps, social platforms and local business directories. Local citations help searchers to discover local businesses. They can help you feature on Google Maps. It is important to ensure your NAP is kept up to date as it is the fourth most important ranking factor in search engine ranking algorithms.
---
How important are citations on local SEO?
Impact local search engine rankings: citations are a leading local SEO ranking factor. The accuracy and quantity of your listings and the quality of the online directories you are cited in can affect how Google perceives your presence online and improves their degree of certainty that your business is genuine.
Impact consumers: accurate citations allow potential customers to find a local business. This leads to an increase in phone, web and foot traffic, culminating in transactions. Inaccurate citations can put customers off, leading to a loss of revenue and reputation.
Improve local rankings: citations with a consistent NAP listing is a positive factor in local SEO rankings. Business descriptions adding in top keywords can also improve local rankings. Local citations factor in three major considerations; reputation, rankings and revenue.
Piggyback page one results: some online business directories such as Yelp consistently rank highly in local searches and dominate the first page of a local search. Having citations in these can help your business appear on page one.
Earn referral traffic: getting citations for your business in as many different directories as possible will drive traffic. People can be loyal to different citations so if they are looking for a tradesperson, they are likely to head straight to a trade directory. Find niche directories that best suit your brand.
---
What types of citations are there?
Before considering how to build citations, it helps to understand the two different types of citations you can get:
Structured citations: a citation that lists the businesses name, address and phone number (NAP) is a structured citation. The information is always displayed in the same way, and the page is effectively built around that information. Examples of these are directory listings and social media profiles.
Unstructured citations: unstructured citations are a contextual mention of a business. These tend to show up in forum posts, blog posts, online reviews, captions, or as a result of mentions in the local press. These are less formal than structured citations.
---
What is NAP consistency? How does NAP affect local SEO?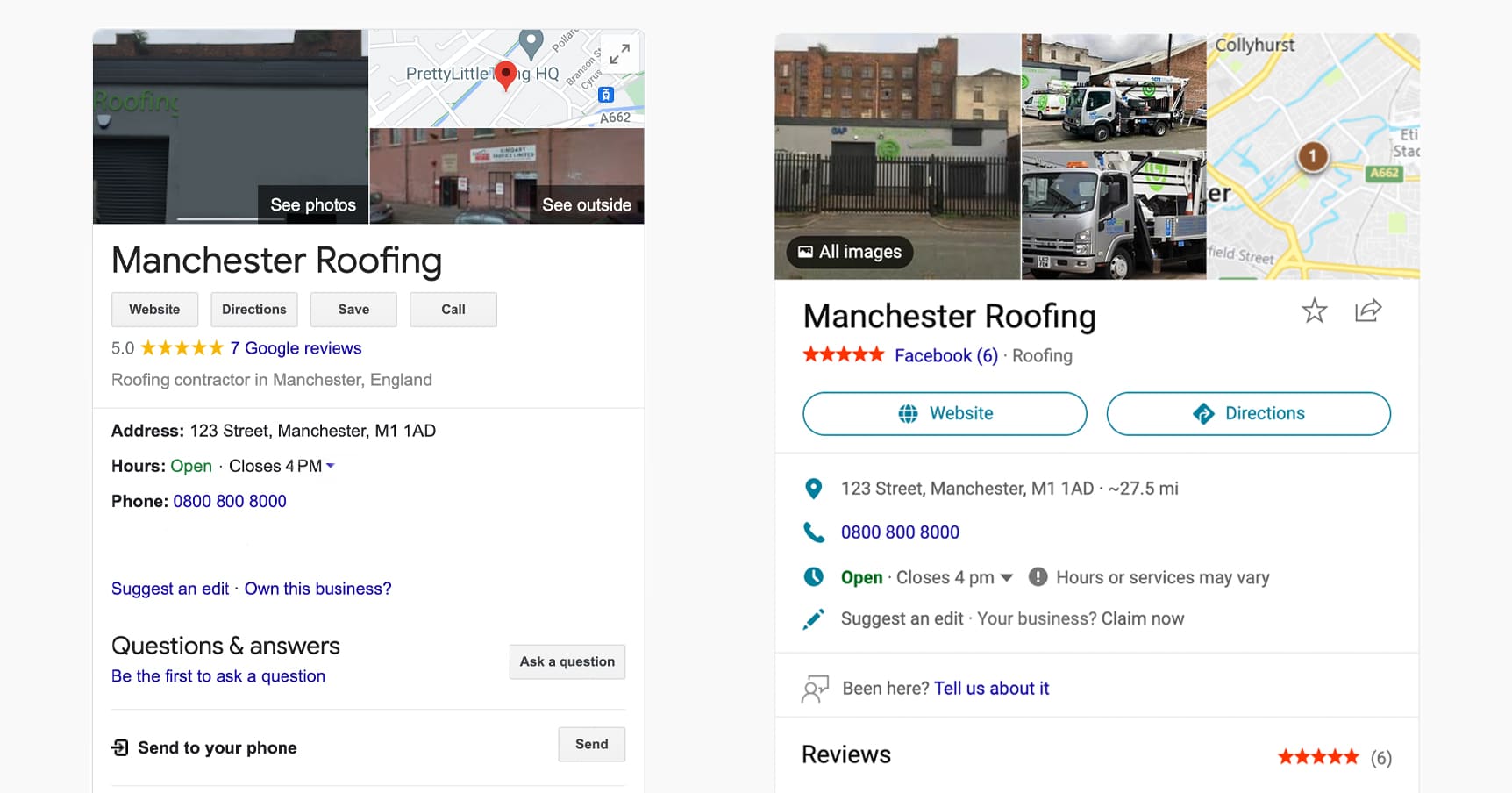 NAP consistency refers to the accuracy of online information (Name, Address, Phone number) about your business. For example, for NAP to be consistent, you need to display the same business address on both your website and your GMB profile.
NAP citations tend to occur naturally in the course of creating a new webpage or in a marketing action, such as writing an article. NAP consistency can be neglected if you become more concerned with the task at hand. Not all NAP occurrences will follow the same format, you might find yourself entering the data in a range of different ways. Because of this, consistency can be difficult to maintain. This is especially true if you are purchasing a directory listing one minute and completing a social media profile the next.
In addition to this, you may not always be the one who creates the citation. It could be that you are interviewed by a local reporter, or featured on a local events page. The author may truncate the name of your street, or not include your postcode. You may also have other people, such as an SEO agency working on your behalf, and they input NAP data slightly differently to yourself, leading to inconsistencies.
---
Why is NAP consistency important?
NAP consistency is used by a search engine's algorithms and is a positive search ranking factor. It is also a key factor in building trust with potential customers, having a direct impact on customer's perception of your business and dictating whether they will have a positive or negative experience of your brand. Consistent NAP builds good local citations, aiding the discovery of your business by potential customers.
NAP is a ranking factor: the more citations containing your NAP you are able to build, the better your local rank position will be. Search engines gather information about a business through citations. The number of citations it can find and the more consistent the data, the more confident the search engines are in believing the information is accurate, therefore, ranking it highly. Businesses ranking in the top 10 of local pack rankings have between 75 and 86 NAP citations.
NAP consistency is important for consumer trust: over 90% of consumers claim to be frustrated by incorrect information in online directories. If NAP data is inconsistent or incorrect, the consumer is likely to experience considerable inconvenience. It may mean they travel to the wrong location or phone a disconnected phone line. If a consumer has to perform additional searches to find the correct information about your brand, trust is likely to be eroded. NAP consistency removes this threat.
NAP consistency sets the tone for the consumer journey and path to purchase: data from Google shows that 85% of consumers use a search engine as their first port of call when looking for a service or trade. The search results are the first step on what will hopefully be a path to purchase or booking. Discovery portals such as Google My Business profiles, a directory listing or social media link are likely to lead potential customers to you. Having inconsistent NAP can cause consumers to fall off the path towards a purchase. Consumers believe the onus is on local businesses for correcting wrong information, not the site that is displaying the wrong details.
Inconsistent NAP data could mean you're losing customers you may not know you had: 90% of consumers will look up the address of a business online before visiting it. You need to ensure the address they find is correct through NAP consistency. Two different addresses or inconsistencies such as an incorrect or absent postcode could lead to them deciding not to visit before even setting off. This costs you a sale you didn't even know was coming. Similarly, if a customer has travelled to the address shown on your NAP data and struggles to find you, they may give up and go elsewhere. NAP inconsistencies can lead to a potentially large loss of revenue.
NAP consistency results in more and better referral traffic to the site: the more consistent your NAP is, the more referring traffic you will get to your site. Whether it is from search results pages, a click-through, or a backlink from a trusted third-party site, displaying accurate information results in better referral traffic. To ensure you get the most amount of traffic, your NAP should be accurate wherever it appears. Whether it is on Facebook, a blog post, a customer review or within Yelp, it has to be accurate to garner search visibility and help the customer along the path to making a purchase.
Accurate NAP makes the likelihood of appearing in voice search higher: more and more customers are using voice searches and smart speakers to search for information on a business. People use voice searches on their mobiles for hands-free moments such as when driving and in need of local directions to a business. 22% of people use voice searching to find local information. 80% of answers returned from voice searches are taken from the top three organic search results. So you want to ensure you appear in the top three by ensuring your NAP, a known local SEO ranking factor, is accurate.
Consistent NAP makes Maps experiences much more reliable: ensuring your NAP is consistent and accurate ensures customers can find you much quicker and easier. If you have a brick and mortar location, you will benefit from appearing on Google Maps. Of course, Maps can only show the NAP information you have set. The lack of accurate information could lead to the loss of a potential customer. If your NAP information is not accurate, ensure it updated via Google My Business which is used to populate Maps.
---
Key tips for building SEO citations for your trade business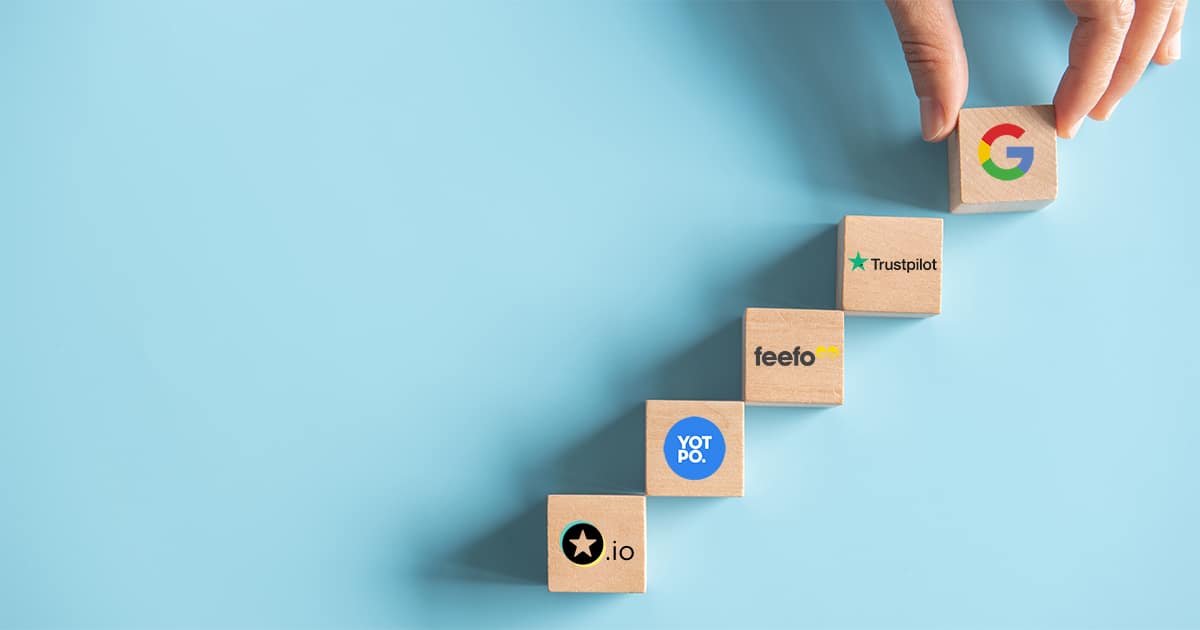 Submit to key sites: there are certain directory sites that you should look at for building your citations. These directories offer an easy way to increase the visibility of your business through citation building. For UK based businesses, there are some key sites you should prioritise. These include Bing Places for Business. This is the Bing equivalent to Google My Business. Although not as popular as Google, it still offers a trustworthy citation. Yelp is a well-established directory. Apple Maps is the default map for users of iPhones and can help potential customers find you.
Keep information up to date: if you change your business phone number, move premises or have a new website, make sure you update the information in the directories. This can be time-consuming but is essential for ensuring trustworthiness and higher rankings. Correct and consistent contact information sends a positive signal to search engines, and more importantly, ensures customers can contact you, find your website or visit your business.
Make sure all social profiles have NAP data: there are a variety of social platforms that allow you to build citations, reach out to customers and showcase your work. Social profiles can often be what customers go to when looking for information on your brand. Each social platform allows you to add NAP data. Make sure the data is relevant and always kept up to date. Your Twitter, Instagram, YouTube and/or Facebook profiles should all contain your name, address and phone number.
Only add citations to good quality sites: although the quantity of citations is somewhat important, this is only the case if the citations are on sites that are considered trustworthy by search engines. Having a citation on a poor quality or more questionable site can have the opposite effect and poorly impact the trustworthiness of your webpage. If there are sites you do not know well but are considering adding a citation, make sure to do your research. If the site seems low quality, then it probably is and it is best to avoid it.
Target websites and press mentions: backlinks are the most valuable result from coverage on others' websites or mentions in the press. When doing your link building on these sites, it does not hurt to ask if an accurate address or contact information can be added when they mention your business. Other unstructured citations come from customer reviews. These can be across a variety of sites or social media. Again, politely ask if they could include your accurate NAP information alongside their review.
---
What behaviour data affects local SEO ranking?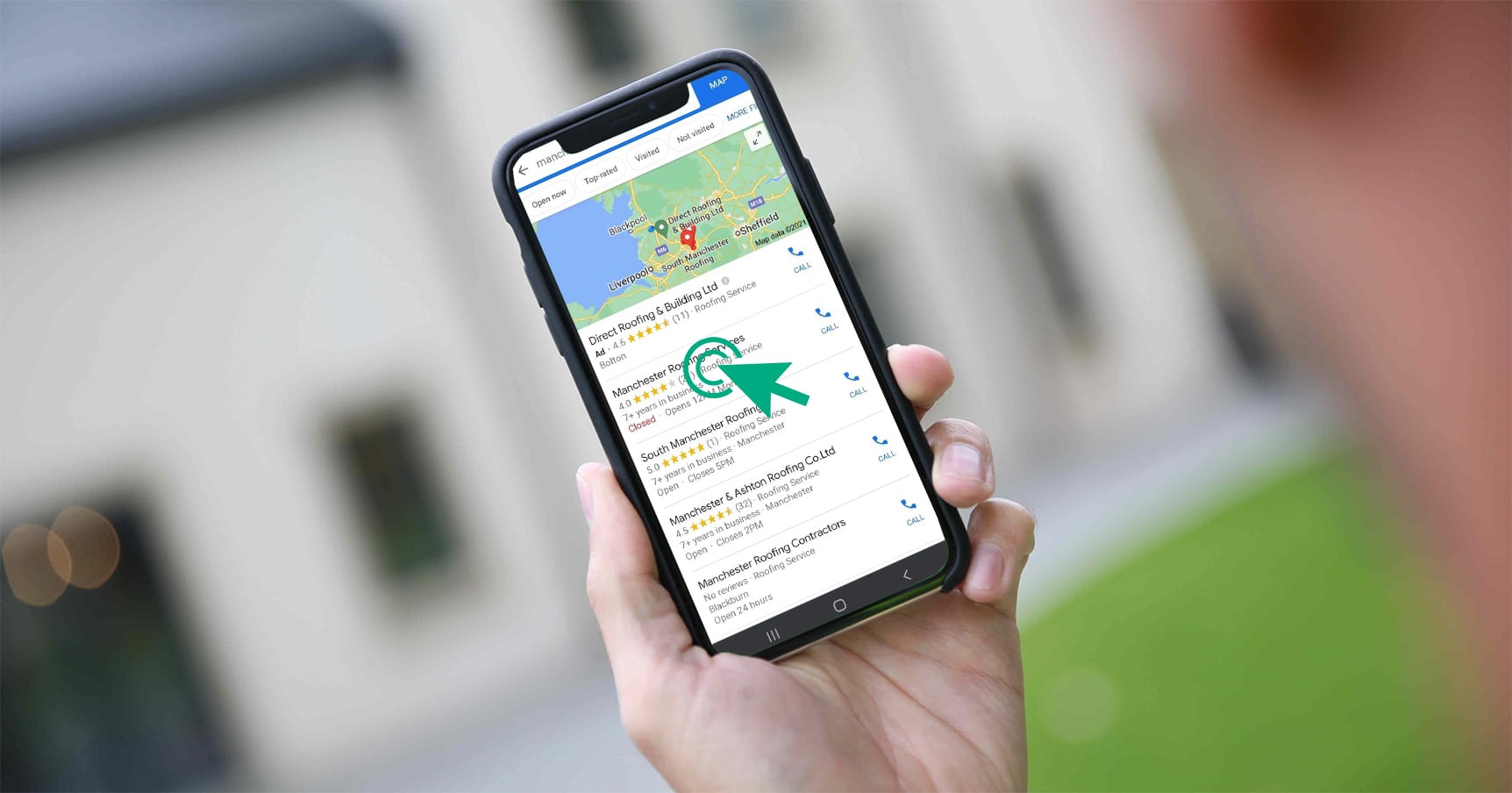 User behaviour data is heavily influenced by organic search rankings. Collect user behaviour data and use it to improve your search engine rankings by optimising your content. Search engine algorithms are much more concerned with user data alongside keywords and meta descriptions. User behaviour data changes constantly and it is worth gaining an advanced understanding of how this behaviour impacts your search engine rankings, and how you can use the data to improve your SEO strategy.
Click-through rate: research shows that the click-through rate is a ranking factor in organic searches having an impact on local results. The more times a customer clicks through to your business, the more times your listing will show up in similar searches in the future. Search engines view click-throughs as an indication that the searcher believes the content on the destination site is relevant to their search query. You can improve your click-through rate with compelling meta descriptions and title stages on your webpage. Remember, the top few search results are always going to get the lion's share of clicks.
Navigation path: researchers at the Department of Computer Science at Cornell University reported that rankings rely on training data that is collected from users. Search engine algorithm's judge that useful SEO data can be collected from click-through logs. Navigation paths are tracked by search engines. A navigation path is simply the channel by which a user reached your site and the path of their departure. Search engines want to know how a user got to a particular webpage. You can use Google Analytics to gain insights into your site's navigation path. This can allow you to increase your organic traffic, click-through rate and search rankings.
Search proximity: Google has always been able to detect the location of mobile phones. They are now also able to accurately do this on laptop and desktop searches. The distance from where the business is in proximity to the search being performed will influence how well it ranks for those searches. With all other factors being equal, the closer the search proximity, the higher the rank. Service-area businesses such as trade companies tend to have a wider search radius compared to, for example, a coffee shop. If your business lies outside the radius from search locations, you may have a tougher time reaching those customers through Google.
How compelling results attract more links: 93% of online experiences start with a search engine. Some of these online experiences will involve your target audience. If you want to get them to your site, you need to make sure your search results are compelling. When a customer performs an online search using keywords, they are not just looking for results with the keyword in the meta-description or headline. Rather, they are looking for the right information on the page. Improving your organic click rate will drive more customers to your webpage as SEO leads are highly targeted.
Branded search volume: branded searches are like a citation. They are an expression of interest in a business. Branded searches are a very basic indicator of the awareness of the popularity of a business. Internet users perform these searches on a regular basis. In addition to a search of the brand name, search engines are interested in the context of those brand searches such as adjacent keywords. These adjacent keywords could improve your ranking in future unbranded searches. Branded searches favour well-known or established businesses over new ones. A good way to encourage branded searches is marketing (including offline marketing).
Bounce rate: search engines track the behaviour data of users on your site. The amount of time they are on your site will be recorded, as will the number of pages they visit after they reach your landing page. If a user clicks through to a landing page and immediately leaves without clicking through to any other pages, then this visit will increase your bounce rate. The bounce rate is the number of users who leave the site without clicking through to any other page. You should aim to reduce your bounce rate by leading customers to other pages on your site and retain them when they come to the site on any of your landing pages.
Time on page: the longer a user spends on your page, the more that search engines will conclude that users are finding useful information. This is an effective on-page SEO strategy. A determining factor in search rankings is the average amount of time a user spends on your site. Therefore, you want to add compelling and quality information that will hold users on your site for longer. This user behaviour is analysed by search engines for ranking purposes. Creating fresh content regularly including blog posts can keep users on your page for longer.
Google My Business panel interactions: increasingly, click-through to webpages is happening within Google My Business knowledge panels. These panel interactions are an extremely strong endorsement of a business's relevance compared to a website visit. They give search engines direct indications that customers want to interact with a business. These panel interactions could include phone calls, with Google's knowledge panel, offering mobile click to call functionality. A request for driving directions on the panel gives an even stronger indicator that a searcher intends to visit a business. The panel also offers users options such as saving the website to their bookmarks or clicking to visit the website.
Data profile personalisation: Google+ means most of us are logged in to the same account on every device, whether it's a tablet, smartphone, laptop or desktop computer. On some devices such as Android phones and Google Home, users have to log into their Google+ account before using them. This means Google+ has exceptional data-gathering and tracking mechanisms. A user's behaviour on each device informs what they see. For example, websites you visit and engage with in the past on your laptop are likely to feature highly in future searches. Tracking the location of your phone may inform the results on your desktop based on local searches within the proximity of your mobile.
Offline visits: in 2017, Google announced a partnership with credit card companies. This allows them to track up to 70% of consumer purchases. Add to this, data from 24 million consumers who use Android Pay. With all of this offline data, Google is able to track the transaction volume of businesses, particularly big businesses with a lot of customers. It also favours smaller businesses in its local search results. So even when your customers are not physically online, Google is still harvesting data that can impact your search rankings.
---
What are some local SEO mistakes?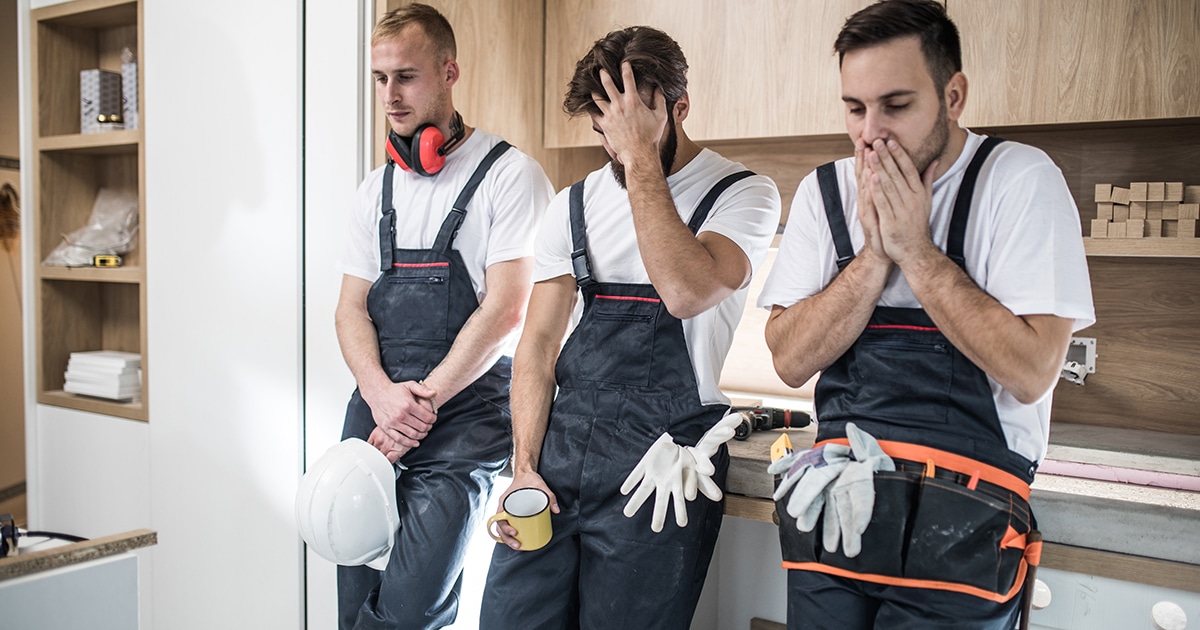 Whilst trying to keep your site maintained for local SEO, a few mistakes can still occur.
Here are seven common mistakes and how they can be prevented:
No Google My Business profile: a Google My Business profile offers Google information about a business and uses that information to rank it in search results. GMB profiles display the business name, address, phone number, hours of operation and other relevant information. This helps your business to appear high in local search results, as well as showing on Google Maps. Without a GMB profile, potential customers may never find you in search results. Additionally, if you don't claim a GMB profile for your business, someone else can, and may enter incorrect information without your knowledge.
Ignoring GMB features: there are a number of features on Google My Business that business owners should use. Google Reviews, Google Posts and Q&A are some features offered. If you don't take advantage of all of GMB's features, then you are not properly implementing local SEO and it is essentially ineffective. GMB features also allow business owners to post frequent, relevant information allowing customers to regularly interact with them. This can help get your business ranked higher up the search engine results page.
Duplicate listings: it is against Google's terms of service to have more than one Google My Business profiles. Google hates duplication in its search results as it is a waste of resources for them to analyse and store duplicate content. Your business should only have one Google My Business page. To make sure you only have one, you can use different tools. Type in the name of your business and the tool will alert you as to whether there are duplicate listings online. If there are, you can get them removed by contacting Google.
Missing relevant categories: one of the most common (and often costly mistakes) on the Google My Business profile page is missing relevant categories. You will have more prospects of gaining customers if you advertise in more sections. It is against Google's terms of service to include categories that are not relevant to your business, but the more relevant categories you can include, the better. Reviewing the categories top-ranking businesses have listed in their profiles can help you select your categories.
Missing contact information on your website: visit your website's contact page and ensure all of your contact information is listed on the page. Ensure your NAP is listed as text and not in an image or animation. This allows search engines to read your contact information correctly and verify it is accurate. Search engines don't like to show incorrect information and this can negatively affect your credibility. Google ensures the NAP information on your website's contact page matches the information on your Google My Business profile.
Inconsistent NAP information online: as we've already said, NAP stands for name, address phone number. Search engines use the NAP information on your website and compares it to information listed across the rest of the internet. Inconsistent NAP information such as in directories, social profiles or your own website can damage your credibility and reduce your ratings.
Missing citations: a citation is any mention of your NAP information on another website. It is important to ensure your NAP is accurate and consistent across all of your citations. If the information is incorrect or if you are missing citations, you will not rank as highly in search engine results.
No customer reviews: many businesses struggle to get customer reviews online. That is why it is important to follow up with customers and ask if they would be willing to leave a review. You can ask via a follow-up email, over the phone, or in person. The easiest option may be to ask by email, as you can send a link directly to review sites which makes it easier for the customer. Garnering positive reviews can be a slow process but they add up over time and can give you a real advantage over your competitors.
Low quality, thin website content: your website plays an incredibly important role in how your Google My Business profile ranks in search results. Thin content is a page consisting of less than 500 words. If your website is full of thin or low quality content, then it is going to rank poorly on search engine results. Web pages that have plenty of relevant, high quality content are more likely to answer the searchers' questions and so are more likely to rank more highly on Google search results.
Ignoring website SEO: regularly reviewing and optimising your website SEO can be difficult, but is an important task. It is essential to keep up with SEO tactics by maintaining your metadata such as titles, URLs and descriptions, and with keywords. Title stages appear on the website tab as well as search engine results. They give search engines and users a description of what your page is about. Google's practice of ranking websites changes frequently, so it is vital to keep up with SEO tactics.
Local keyword stuffing: following on from the last point, whilst keywords are important, you should ensure you don't adopt the practice of 'keyword stuffing' as this can negatively affect your rankings. Google's algorithm punishes businesses who stuff keywords into their headers, footers, page content and descriptions. Keywords should flow naturally and be relevant. A useful tool if you are concerned with keyword stuffing is SEOBook. It can help you incorporate local keywords and alert you to keyword stuffing.
Spammy backlinks: backlinks are important for SEO, but the links need to come from respected and credible sites. A backlink is a link that directs users to your website from another site, acting as a signal of approval. Backlinks from pages that have a low page authority can damage your SEO as they can be viewed as spammy. If malpractice is prevalent, a website will have low page authority. The best advice is to not link back to these websites as doing so may reduce your page ranking.
No high quality, relevant links: you need to invest tactics in trying to get high quality, relevant links. This is a major factor in SEO and a factor in Google's local ranking algorithm. Ensure you are listed in high quality and relevant directories that provide citations. The best long-term way to obtain high quality links is to publish and promote relevant and quality content. Creating something worth linking to is the best way to get other websites to link back to your site.
Ignoring social media: social media such as Facebook, Twitter, Instagram and LinkedIn may all be used by Google to rank businesses. Whilst social media can increase your local rankings, it also has the undeniable benefit of creating more exposure for your business and interacting with customers. The best way to do this is by publishing high quality, relevant content. Whilst social media isn't a primary driver of SEO success, it would be a mistake to completely ignore it.
No mobile-optimised website: a big mistake companies make, is not optimising their website for mobile devices. More and more people are using their mobile phones to search for content online and customers are going to expect to find a mobile-optimised site. Google's ranking algorithm includes a site's mobile-friendliness. They also ensure your mobile-optimised site will be the primary website shown when searchers are using mobiles. If a potential customer finds your site is not optimised for the device they are using, they are more likely to leave it.
---
What are the best local SEO tips for 2021?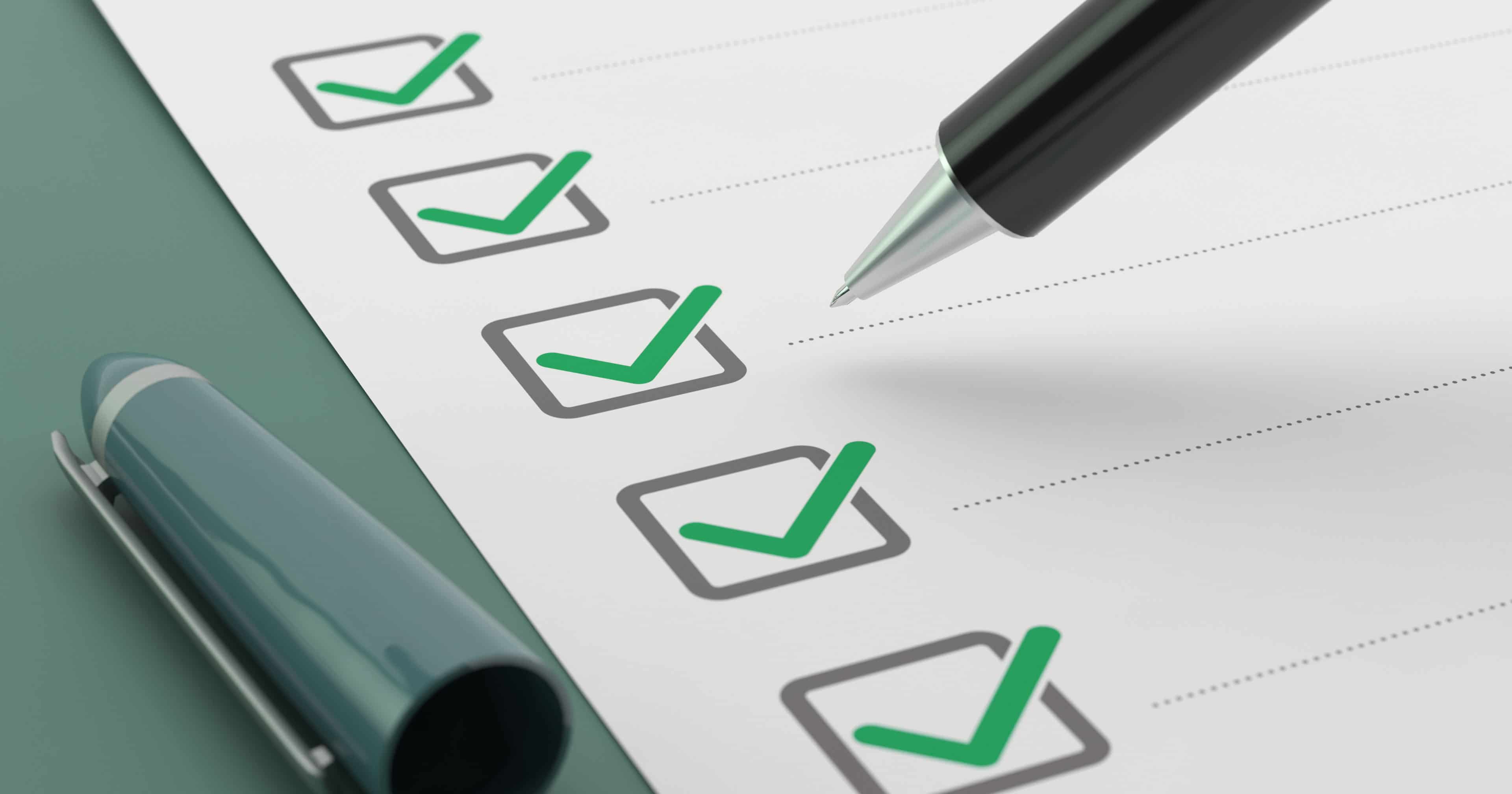 Create and optimise your Google My Business account: to get started, claim your business on Google My Business. This is free and establishes your presence on the search engine. Your business will then also show up on Google Maps. Once Google authenticates your business as legitimate, it could also show in sidebars on Google. Optimise your Google My Business listing to provide deep links that take searchers directly to the information they are interested in rather than them finding themselves on a landing page and having to search further for the information.
Build your citations: citations help potential customers find information on your business. Citations must include accurate NAP information that is consistent across all pages. A citation should include your website's URL so customers can click straight through to you. Building your citations on authentic and quality sites such as directories will help to improve your search rankings. Ensure your NAP information is always displayed accurately and updated as and when needed.
Take your reviews seriously: encouraging your customers to write positive, accurate reviews about your business will optimise your Google My Business presence. 90% of customers read online reviews before visiting a business. Consumers say positive reviews make them trust businesses more, and they trust online reviews as much as a personal reference. The better your reviews, the better your local SEO.
Optimise your website for mobile: a study has shown that 75% of local mobile searches result in visits or enquiries to the business within 24 hours. If a mobile website does not load within 10 seconds, over half of users will abandon the page and most will not return to it. A website that is optimised for mobile users is essential for a good user experience. Optimising your website ensures you don't lose lucrative online and offline traffic.
Publish and optimise localised website content: create an 'About Us' page that focuses on relevant, local information. Use the page to detail work you have completed recently for local customers, and give information about the services you are able to offer to the local community. If you are based across multiple locations, ensure each location has its own page with unique, localised content that is relevant to each location. This will help drive local customers to your site. Publish regular, high quality and relevant local information.
---
Summary
Website building is incredibly complex and there are many considerations that need to be factored in when aiming to rank highly on search engine results. It is of no use to anyone to have a great website but never get it featured on Google's results pages.
A Google My Business profile allows you to complete relevant information about your business which may result in it featuring highly in search rankings. Completing your local profile ensures you are featured on Google Maps when searchers in your local area are searching for a tradesperson in your locality. Local SEO ensures you feature in local search results as well as the main search engine results pages. Local SEO helps to get your business featured on Google Maps, gets more traffic to your site, helps you outrank any competitors and increases your online visibility. Tips to help increase your rankings include obtaining online citations, backlinks and customer reviews, as well as filling out your Google My Business profile fully and accurately.
It is essential that information on your business is accurate and verified. Ensure your NAP is consistent across all sites, utilise keywords (without keyword stuffing) and use the language your customers may use, rather than technical language, to ensure they find you.
Online reviews are essential for increasing local SEO as well as encouraging potential customers to use you as a tradesperson. Even negative reviews can showcase your customer service skills by your responses to help to try and resolve any issues customers may have highlighted. Flyers, follow-up emails and text messages as well as asking in person can be used to bolster the number of reviews you receive.
High quality backlinks and citations will work to boost your search engine rankings by showing the search engines' algorithm's that you have content on your site that is worth linking to. Ensure your site is regularly updated with high quality and relevant content and try to make sure every page has over 500 words, avoiding thin content, keyword stuffing and spammy backlinks. Utilise social media to interact with customers and link to your website, and create blog posts that are worth linking back to.
Finally, review your NAP and ensure it is consistent across all sites. The same name, address and phone number should be used on your Google My Business profile, and across your website, social media, blog posts, directory listings and citations. Consistent NAP is a positive ranking factor so check regularly that it is listed correctly.
---
Questions
---