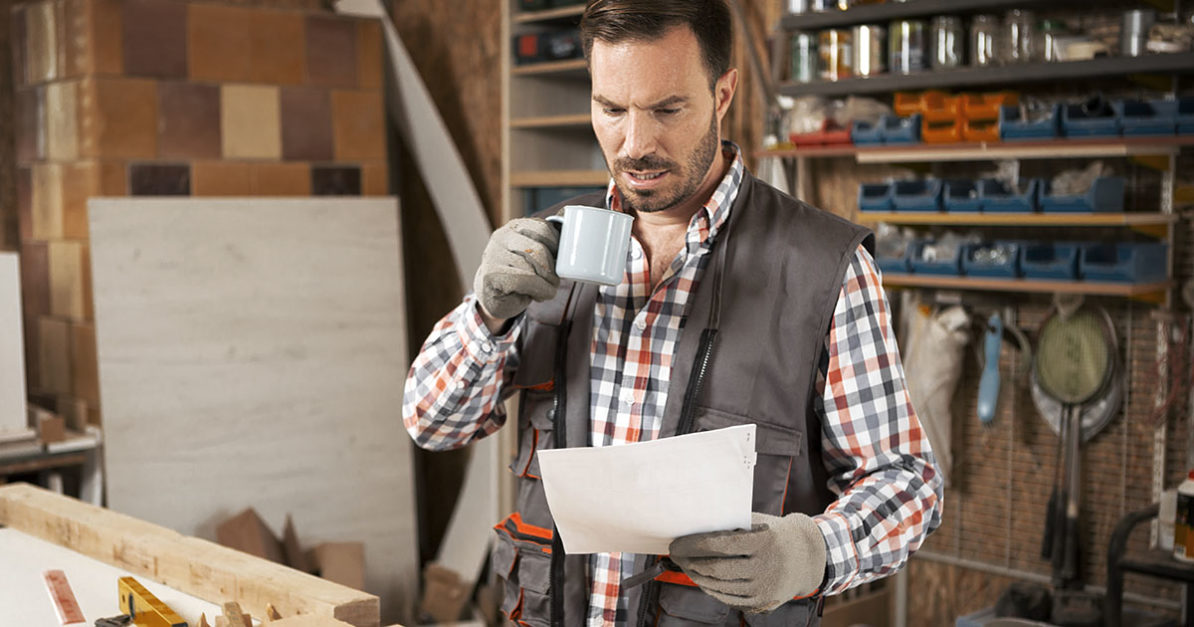 Spending all your free time keeping up with admin tasks for your trade business?
Don't worry, you're not alone, but you've certainly come to the right place!
"Gotta love that paperwork" said no tradesperson…EVER! Time is money so let's get this "paperwork" nailed! Hate it as you may administration is a necessary evil in any business; quotes, invoices, receipts, notes, diaries, calendars, reports and more, but there are ways to avoid being overwhelmed with paperwork and focus more of your attention on what you do best…your trade and your business!
Sage carried out a recent study of 3,000 small business and found that:
On average, small businesses are spending 120 days a year on administrative tasks such as accounting and generating invoices!1
We're here to consider the type of admin tasks you're likely to carry out in your trade business and to share are some tips on how to spend less time on admin, and more on growing the business.
---
What can you expect once you've set up your trade business?
Call Handling.
Follow up email and web enquiries.
Booking appointments.
Quotes and Invoices: sending professional invoices and quotes to customers.
Calendar management: managing yours and your team's workload.
Accounts payable: documenting and paying money that the business owes out e.g. to suppliers or vendors for goods where you've received credit.
Accounts receivable: documenting and chasing money due into the business.
Following up overdue debtors: chasing outstanding invoices.
Inputting invoices into Xero.
Bank reconciliation and real time cash positions.
Payroll, pay day filing.
HMRC duties.
Business reporting to Companies House.
Monthly forecasting.
---
Hiring an admin assistant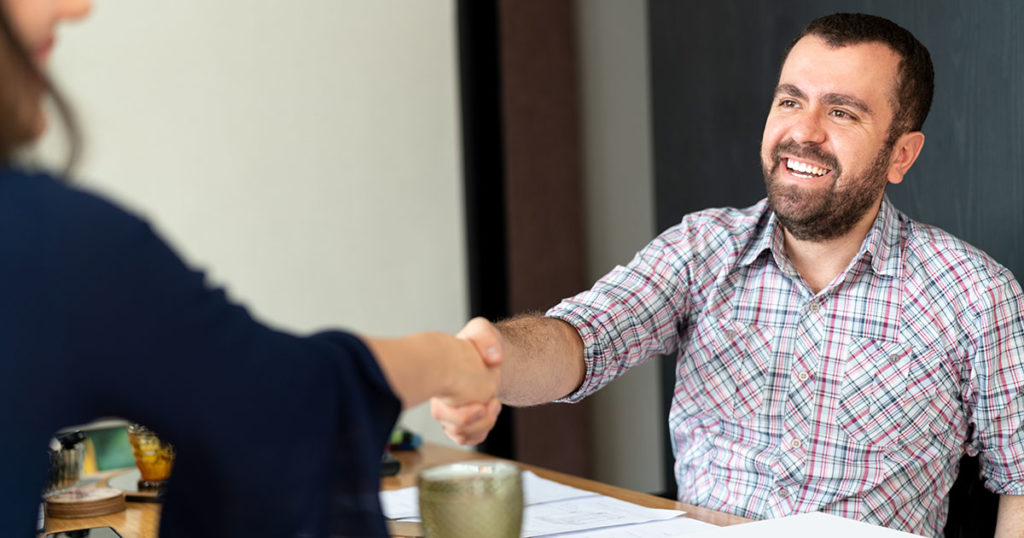 If you can afford to, hiring an admin assistant is undoubtedly going to save you time. While you might think you can't afford it, work out how many hours it would take you to do your admin and compare that to the cost of hundreds of admin services out there! You might just find that if you multiply your hourly rate by the hours it would take you do to do the admin work hiring someone to do it for you is worth its weight in gold. The question is can you afford not to?
You could employ someone a few hours a week to do the work for you but even if you just hired an external company to do the work… it could pay dividends!
---
Why not lighten the load of paperwork and go digital?
Like most people, tradespeople have no interest in admin, they just want to be doing the trade that they love! If you can't afford to pay someone to it for you, avoid piles of paperwork building up by becoming a paperless business.
Let's get you digital:
Things don't get lost: quotes, invoices and receipts can be emailed, and the tradesmen, office administrators and clients alike can all read them!
Documents stay presentable and professional: say goodbye to dirty crumpled up paperwork! Tablets and smart phones wipe clean.
Save time and be more productive: no looking around for misplaced quotes or invoices, everything is accessible on your mobile device.
On site admin: Client record and job completion updates can be done on site, reducing the need for data entry back at the office. It also allows for the accurate clarification of tasks and details on site rather than from memory (or guessing!) later.
Customers often prefer an email or a text rather than paper, plus you'll be a greener business.
Modern contemporary business: it shows customers that you're moving with the times and keeping up to date!
---
How to become a paper free, organised business on the go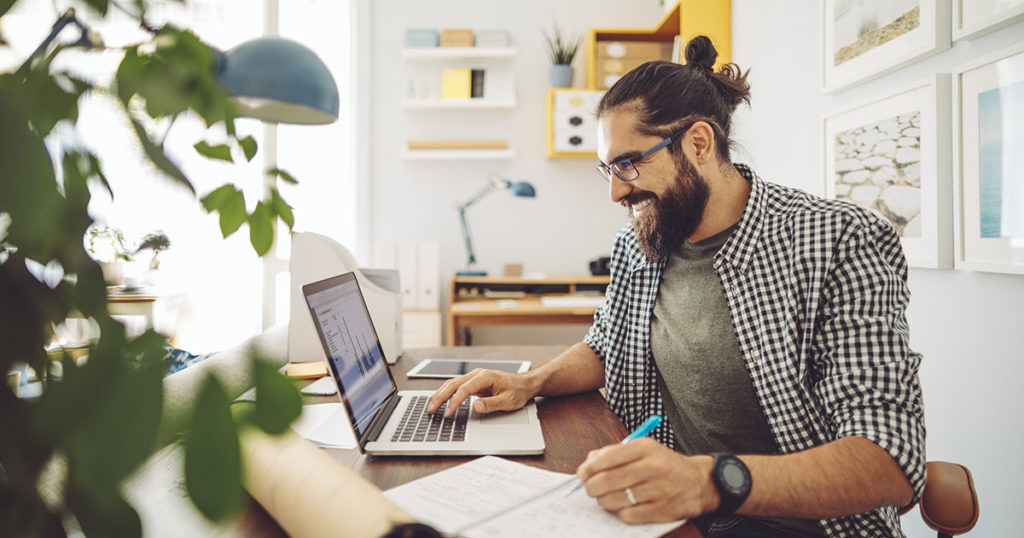 Clear out and scan in: for you to get the best out of digital systems you'll have to stay organised. Piles of paperwork can become overwhelming so if you already have some piled up set a few hours aside to sort through the paper. Create 2 piles: "keep" or "shred" pile. If you get a paper receipt scan it in and digitise it, use online apps like FreshBooks invoices services.
Organise and digitalise your contact information: get organised by saving contact details of staff, suppliers, customers and other business contact in your phone. Organise them with first and last names, business name / address so that you remember them. It will save you time and avoid scribbling details down on scrawling diary pages that you're likely to lose. But be sure to back your phone up to the cloud in case you lose it!
Keep on track of tasks with project management tools: you could find yourself struggling to keep track of it all once the work starts pilling up. Why not try a good project management app that could help you keep in touch with teammates, track tasks and share files?
Examples of such apps include Basecamp and Asana, Monday and Trello: Get Works' lead management platform helps you keep on top of jobs by tracking every lead you receive, storing phone recordings and email leads in one place, tracking a job's status from the initial quote right through to the job being completed.
Add 'callback' dates to your calendar: once you've been out to quote a job, make sure you diarise a follow update to call the customer, check they received the quote and whether they want to proceed. If they aren't ready to buy yet be sure to diarise another call close to the time. This feature is available in the Get Work platform, allowing you to set tasks and reminders for yourself to keep organised.
Use accounting tools like QuickBooks: accounting and bookkeeping are other responsibilities that can see you running up large amounts of paperwork. However, you can streamline procedures including invoicing, taking payments and managing cash flow when you utilise such tools as QuickBooks, Xero and Wave. Using accounting software doesn't have to eat heavily into your firm's budget, either.
Storing documents/data: ensure everything is backed up, most apps will provide this but also ensure that all of your records on computers or smart phones or tables automatically backed up in "the Cloud", to ensure that if anything happens with a device or there's a fire that all of your data is safe.
---
Tools to help streamline admin for your trade business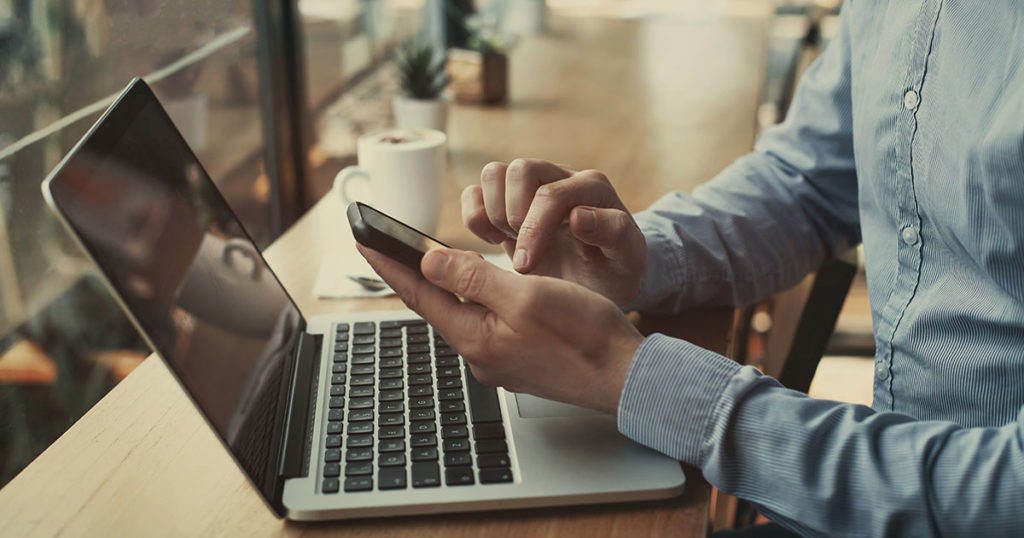 While you might not be 100% confident with it at first, digital administration support systems that you can use on your phone or other mobile devices can drastically reduce the amount of paperwork your business handles daily.
So, it's got to be worth a try!
---
Calendar management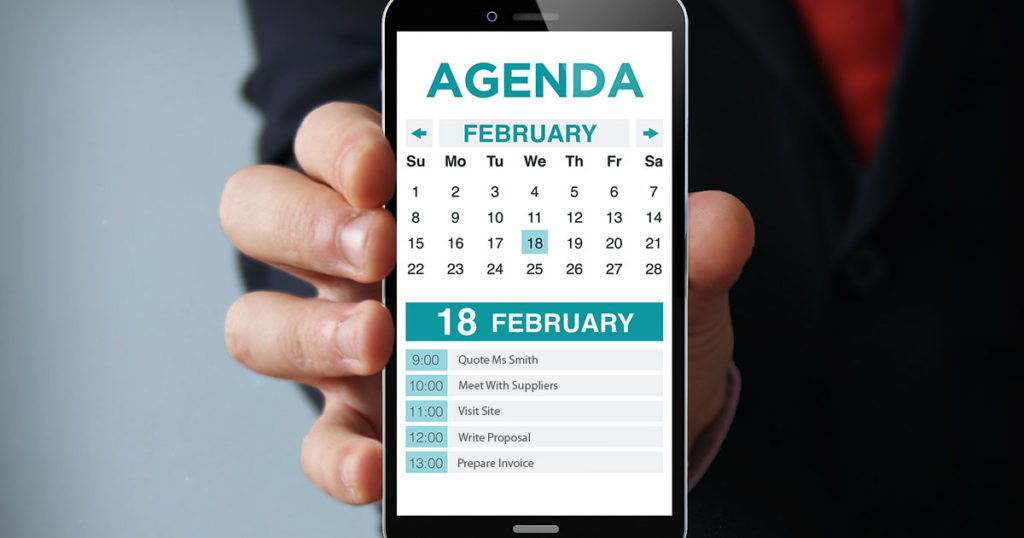 Get Work's lead management platform
What is it? Get Control is Get Work's lead management platform. It's a complete customer relationship management (CRM) platform to help organise your workload. It comes with all the tools you need to grow your business; manage contacts, manage jobs, streamline customer service, and collect reviews.
Why is it so great? It helps you keep track of all your jobs, appointments, work quoted, and work completed, allowing you to easily see what you've spent on your advertising and how much profit you've made as a result. You can stay organised by using the reminders and tasks feature too!
---
Taking Payments
iZettle
What is it? It is designed to help small businesses take card payments and create and send invoices with ease.
What makes it great? Combined with the app, it lets you turn your device into a mobile, secure point of sale. This means you can use it to keep track of card, cash, mobile and invoice payments while on the go. You can generate bills and invoices, sending them to customers straight from the app, and iZettle will let you know when they've been paid or even send reminders to clients who've missed the due date. Need to issue a refund or discount? You can do that on the app, too.
---
Invoicing and estimating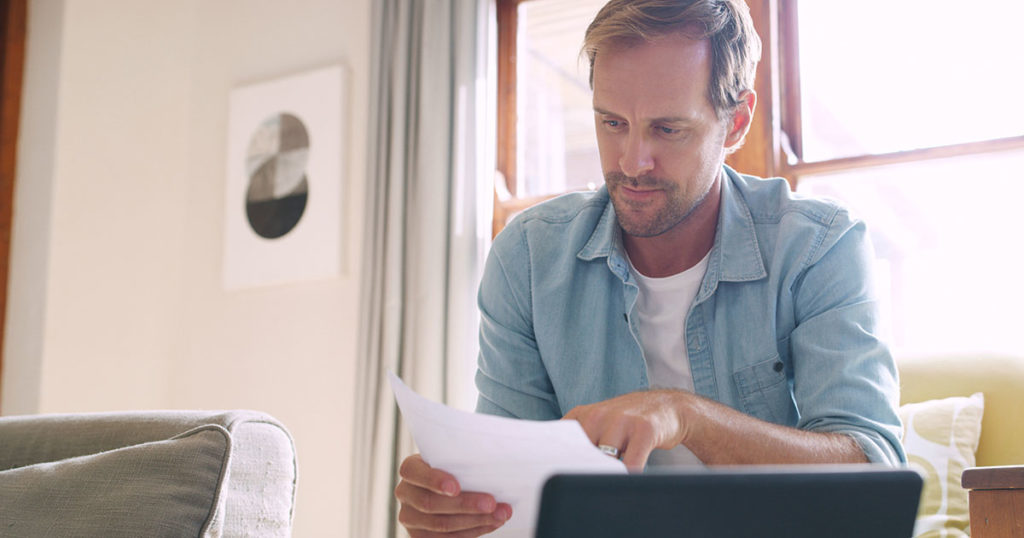 Powered Now
What is it? It is an invoice, quoting, estimating and scheduling program for small businesses. You can use it to create quotes and job sheets, wherever you are.
Why is it so great? It can also help you manage your diary and keep track of payments. It allows you to send invoices and quotes via text and sends you an alert once they've been opened, to organising all your communications in an easy to view timeline
Managing a team? Powered Now can be used to record their hours, photos of finished work or customer signatures, so everything's stored in one place. It's also got a handy built-in chat function, so you can all stay in touch with your team within the app. Plus, live team tracking allows you to check everyone is where they need to be.
Joist
What is it? Another estimating and invoicing tool for tradesmen, it allows users to customise their estimates and invoices with their company information, logo and more. You can attach a client contract and collect a signature on the move, allowing you to control all your paperwork directly from the app itself.
Why is it so great? You can build up a list of commonly used services or materials, saving you time, you can even attach photos to your estimates and invoices, as well as previewing them before you send them on. If you need to print or email estimates, that's not a problem either for Joist, you can do all of that seamlessly from the app too and you can even provide a personal message for your clients along with the paperwork.
It's easy to convert your estimates into invoices and you can use the app to keep track of your customer payments and see how much you're still owed. You can even save and manage your client's information directly from the app, and unique to Joist, you can also set your own tax rates. All of the data from Joist is easily exportable to your favoured accounting program, so you can keep your bookkeeping costs down too.
---
Accounting Tools
Xero
What is it? It's cloud accounting software that makes running your business' accounts simpler, faster and more efficient. Xero's focus is on real-time information, giving you a view of your key numbers that's current and based on all your most recent transactions.
Why is it so great? It was designed for small business owners to allow them to deal with their accounts in a jargon free, easy to use platform giving business owners a dashboard snapshot of the key figures that they need to know to manage their accounts rather than scrolling through pages of reports. You can use Xero from anywhere at any time to send invoices, check your cash balance or chase up an outstanding payment helping you become more productive with your time. The bank feed links directly to your business account showing you incoming and outgoings as they're processed.
Your key numbers in one place: the Xero Dashboard gives you a completely current view of your bank balance, Xero balance, cash in and out and all your outstanding bills and invoices as they stand right now.
Send invoices online: there's no need for paper invoices. Process an invoice, email it straight to the customer and see the transaction pulled straight into your books.
Automated bookkeeping: smart-scanning Xero Add-Ons, like Receipt Bank, automatically pull your receipts, bills and expenses straight into your Xero data.
Real-time reporting: when you pull of a cash report, or a profit and loss statement, the numbers you see truly reflect the current position of the business.
Xero's data is sat securely in the cloud. It also integrates with 800+ apps to help keep you organised.
With Xero, your data's sat in the cloud on safely encrypted servers, there's not a local drive in sight. And this has all sorts of advantages for the running of your business systems.
---
Summary
No one likes endless amounts of paperwork they have to get done in their free time! As a tradesperson you want to be out and about doing what you're best at…your trade! The tips in this article will undoubtedly help you spend less time doing admin tasks and also make you more organised.
Whether you hire help, go paperless or make use of some of the tools and apps mentioned in this article, we hope you find your future admin tasks ever so easy!
Questions
---