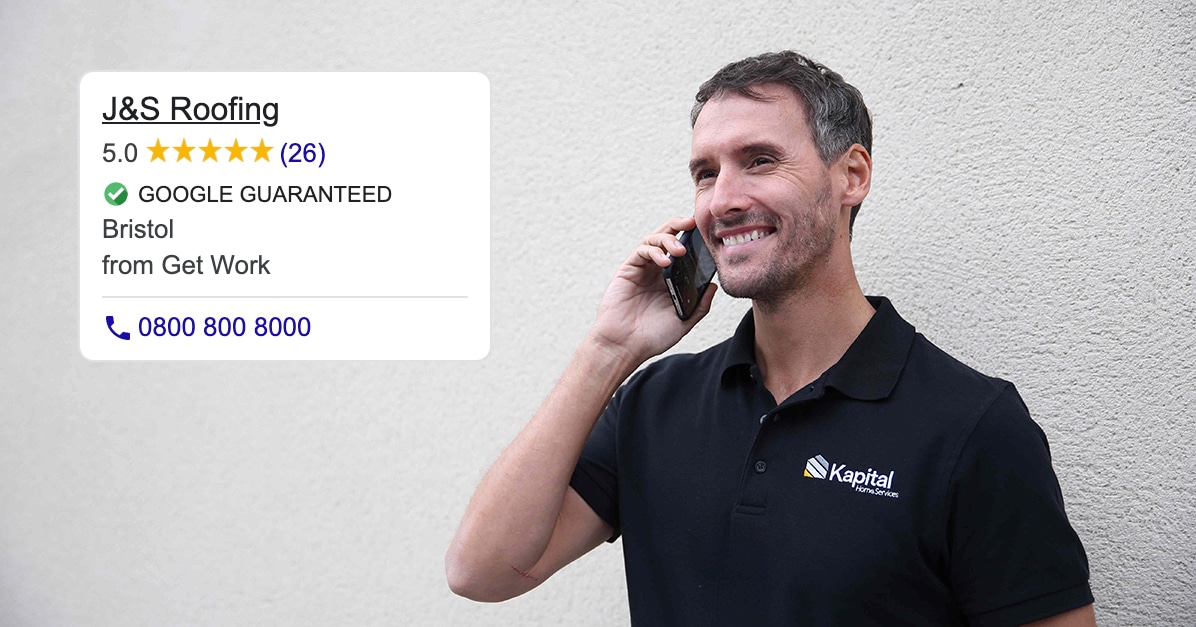 Own a trade company? Want a new way to get leads? LSAs can help you!
Designed for local businesses, Local Services Ads are a perfect way for tradespeople to get more work in their local area.
In this article, we'll explore:
---
What are Local Services Ads?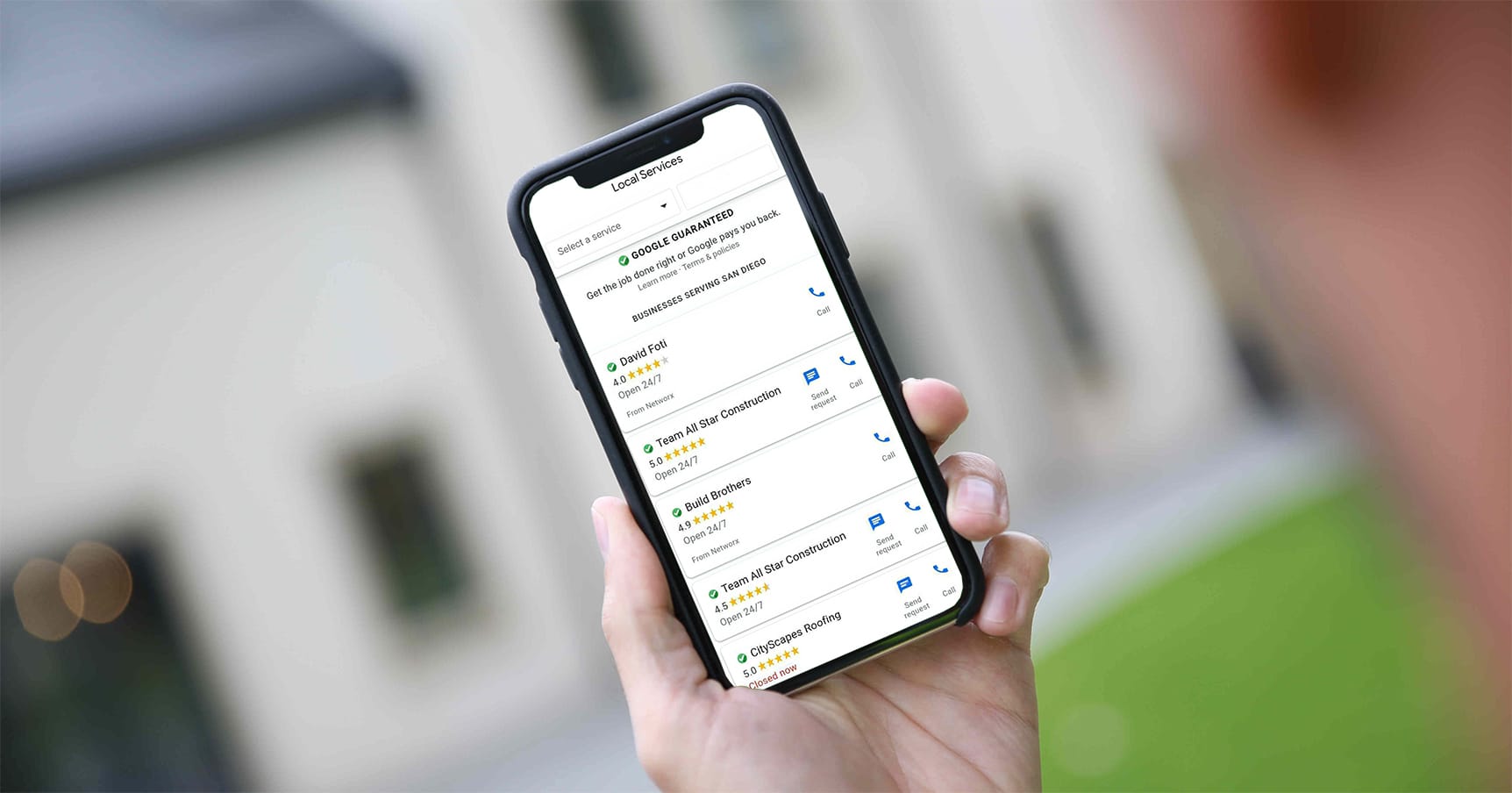 When you need to get your trade business found online, Google's Local Services Ads (LSAs) can help. A bit like other ads you might see on Google results pages, you can use LSAs to encourage more online traffic to your business. LSAs charge you if a visitor takes an action such as calling or submitting an enquiry.
---
How do Local Services Ads work?
When you take out Local Services Ads with Google, your ad will display in the search results whenever someone searches for services that relate to your local business. It doesn't matter what type of device they use – laptop, mobile or tablet – or even if they use a voice assistant like Alexa or Google Assistant, your ads will display.
To get started you need to sign up for the LSA programme. Your ads will then be displayed based on the location of the person searching, the specifics of the service they are searching, and other things such as positive reviews.
---
When and where do Local Services Ads appear?
The great thing about Local Services Ads is that whenever someone is looking for a service you offer in your location, your ad will be displayed at the top of Google's results for searches. The ads will be triggered to display when the user searches for certain keywords that are relevant to your business and their needs. Say someone needed "plumbers in Southampton", then a list of ads for plumbers in the Southampton area will appear.
The number of ads displayed depends on how the user is viewing the results. If they're using a laptop or PC, three businesses will be visible; if they're using a mobile, two will display. There will also be a button to reveal a more extensive list.
---
Who can sign up for Local Services Ads?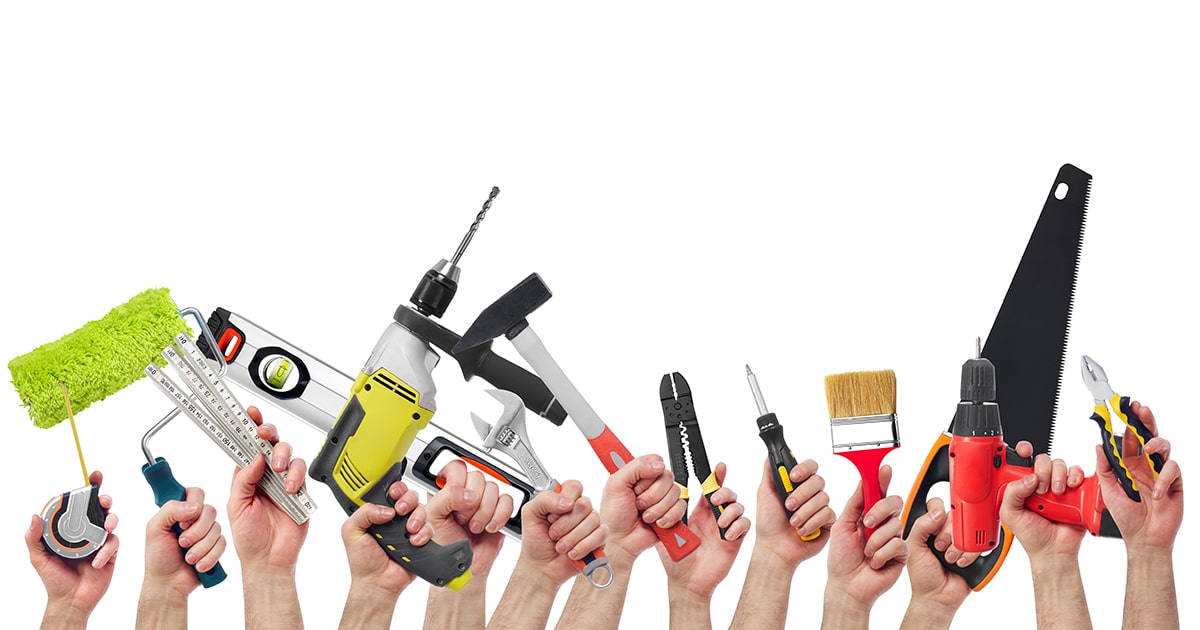 LSAs can be used by a range of small businesses and people who offer professional services. When it comes to traders, that includes the following:
Roofers
Plumbers
Electricians
HVAC (heating or air conditioning)
Tree services
Lawn care services
Garage door services
Appliance repair services
Carpet cleaning services
Removals
Pest control services
Junk removal services
Cleaning services
Water damage services
Window cleaning services
Window repair services
If you don't see your profession on the list above, Google may include it in future as they are constantly making changes to their service.
If your business falls within one of these categories, you can use LSAs. All you need is: proof of public liability insurance and proof that your business is legally registered. You'll also need to have background checks run on you and any people you employ, which will entitle you to the Google Guarantee (discussed below).
---
What are the benefits of Local Services Ads for tradespeople?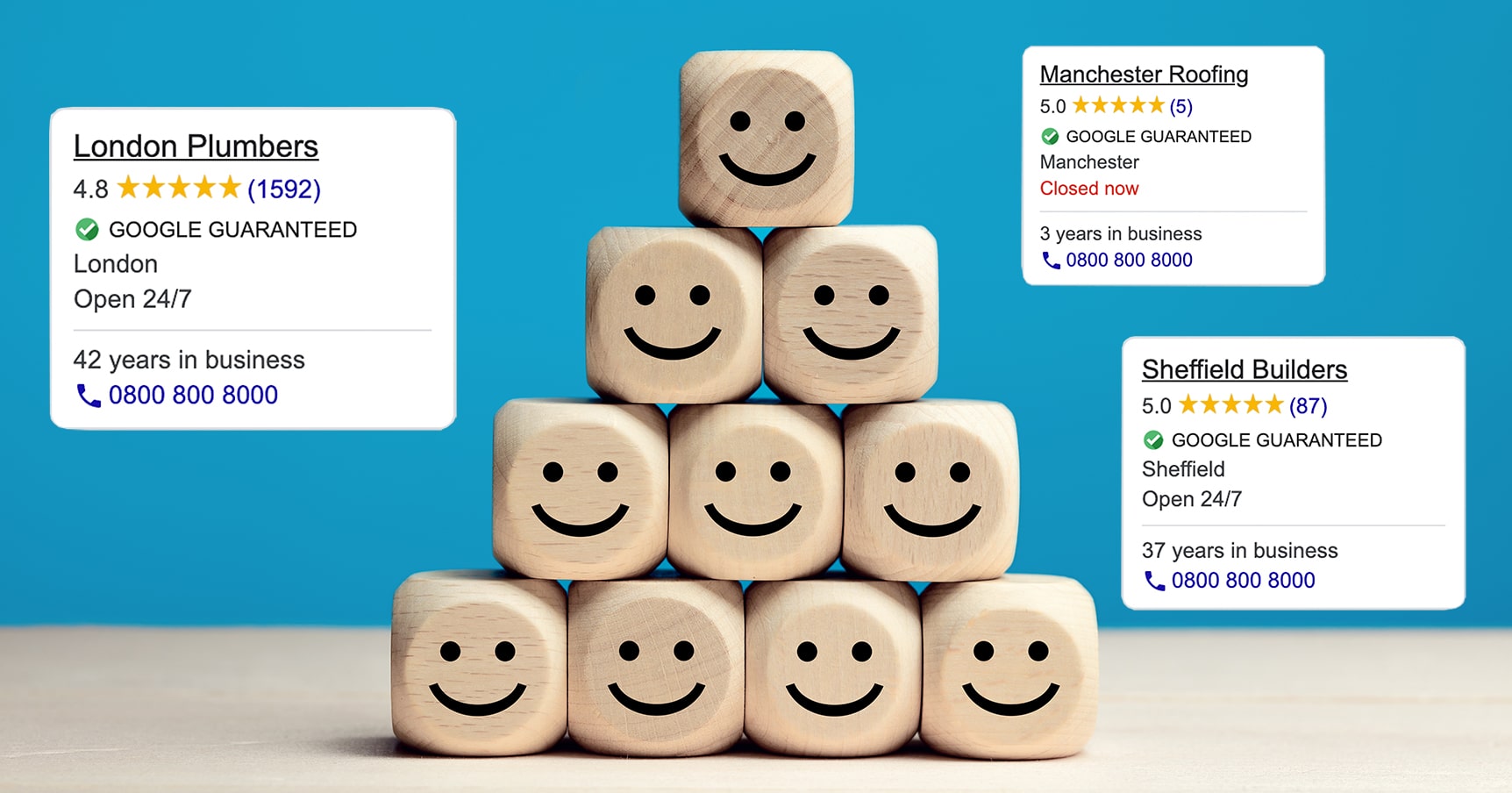 The main benefit of LSAs is that they help get your business featured at the top of the search results without having to spend time and money on other lengthy search engine optimisation (SEO) strategies. This gets your business in front of those in your area who are looking for what you offer. Here are just some of the perks of using LSAs to drum up trade:
Pay for each lead: you will only be charged for using LSAs when someone gets in touch with you after clicking on your ad. That means you won't be charged if someone clicks onto your service and immediately leaves, for instance. This helps improve your return on investment.
Get found at the top of Google search results: LSAs get a prime position at the very top of Google search results, above all others. Your business could easily be the first to catch a customer's eye. It positions you as a reliable business and should ultimately lead to more work.
Reach the most viable customers: because LSAs have a local focus, the nearer you are to the person searching, the more likely they will be to see you and use your services. If they are looking for a specific service that you offer which others may not, your ad can also draw attention to it. Ultimately, your business will be seen by the people most likely to bring in custom.
Target where and when your ad appears: it's also possible to target customers even more precisely by giving Google a little more information to work with. You can do this by specifying the precise services you offer (rather than just your general line of work) and selecting specific postcode areas in which you are able or unable to work.
Earn customer confidence with Google Guarantee: to be allowed to place an LSA, you must first be awarded Google Guaranteed status. Having this provides you with a green badge positioned next to the name of your business as it appears on Google. This means potential customers know that Google trusts you enough to offer them a potential reimbursement of up to £1500 should anything go wrong, at no cost to you.
---
What does a Local Services Ad look like?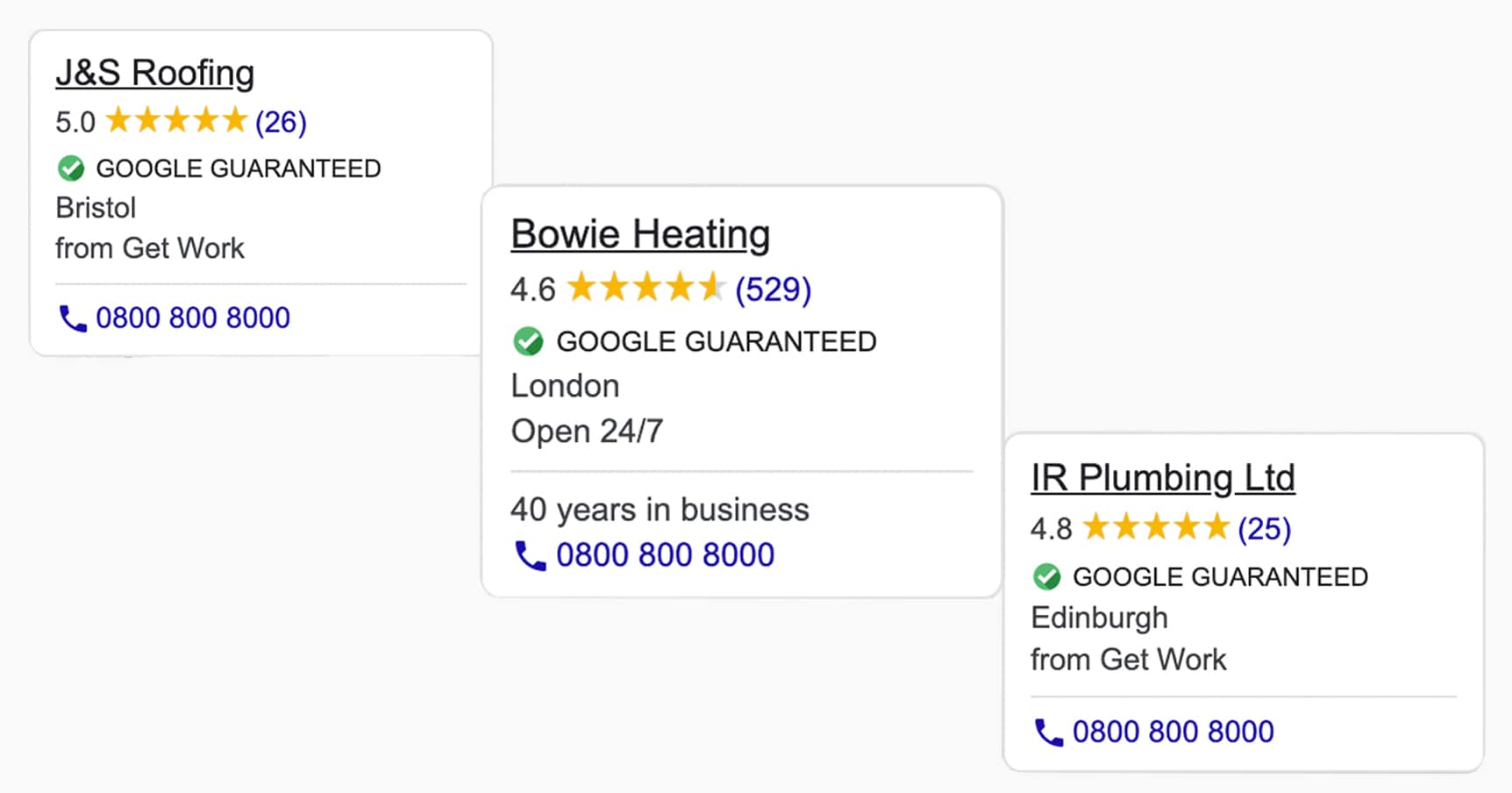 You stand a better chance of getting potential customers to click on your ad and contact you if you include certain things. These are:
Business name
Phone number
Location
Reviews (including an average score and the number of reviewers)
Business hours
Google Guaranteed status
Photos (e.g. your van/fleet; before & after shots)
Business bio (reassure readers of your experience and promote your best qualities)
There's no guarantee that all of the above will always be shown; this will depend on the type of device the person is using and what Google's algorithms consider the best way of attracting interest.
---
What is the Google Guarantee?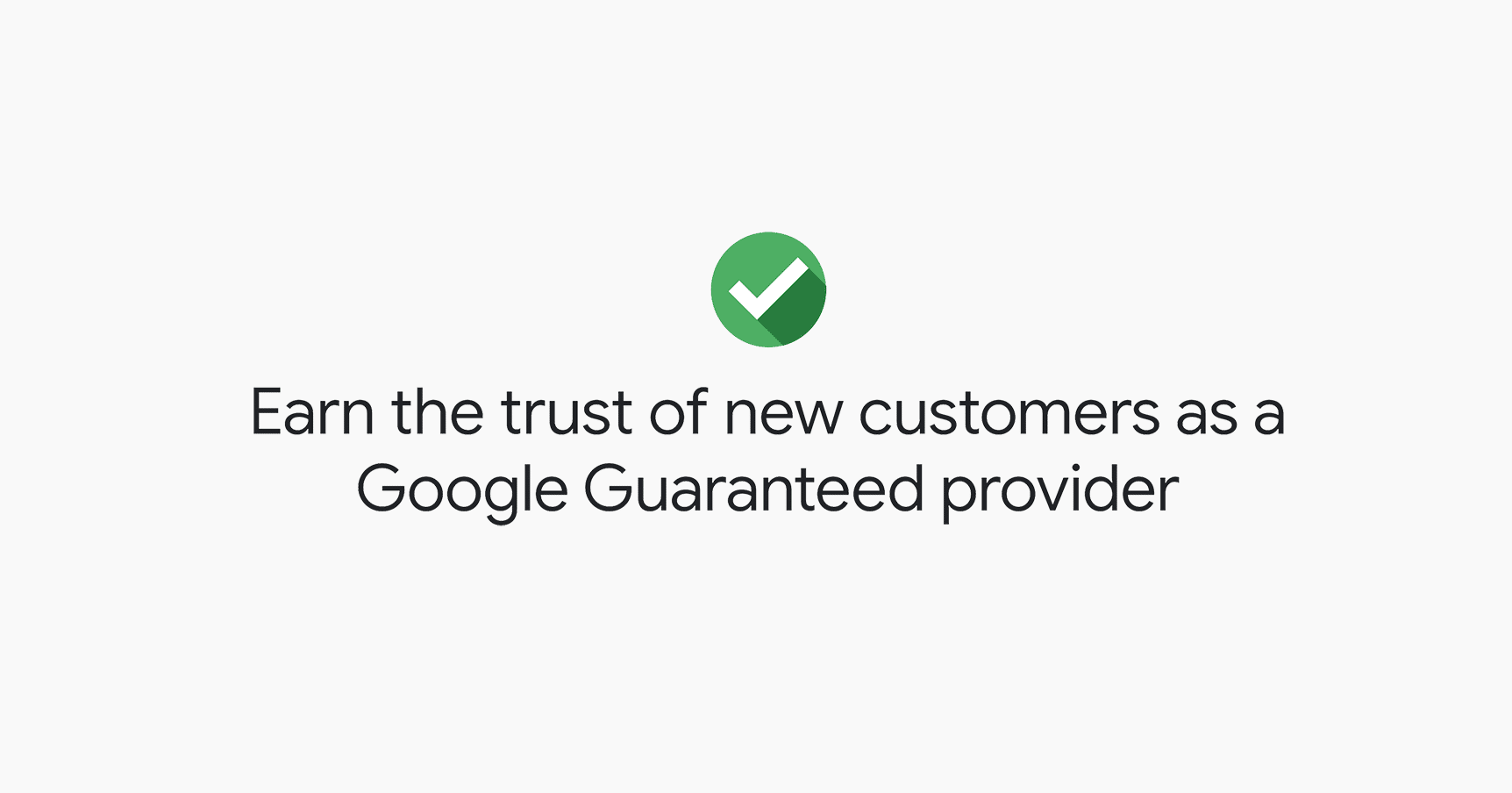 When you sign up to use LSAs you also need to become Google Guaranteed so that customers know they can trust you.
For this you need to do three things:
Provide proof of valid public liability insurance
Provide proof that your business is legally registered
Permit a background check on you and anyone you employ, conducted by Google
Once these are received and completed, you will be given Google Guaranteed status. That means your business will appear on Google with a green 'guaranteed' badge to show you have been approved.
The benefit of this for customers is that should anything go wrong with a job booked through an LSA, they may be entitled to reimbursement up to the value of £1500. The benefit to you is that this reassuring guarantee will cost you nothing!
Google issues reimbursements at its own discretion and will never refund for issues unrelated to the actual service you provide, such as dissatisfaction with the price. £1500 is the lifetime limit for what a customer can receive through the service, which helps prevent fraudulent disputes.
You will also be given the chance to respond to any customer who requests reimbursement so that you can attempt to resolve whatever issue they may have. Ultimately, Google will decide on the relevant course of action, and this does not have any further legal or insurance related consequences for you.
If you take on new employees or your legal status changes in a way that could affect your eligibility, you just need to let Google know. You also need to make sure your ad budget is topped up, otherwise your Google Guaranteed badge will not show.
---
What determines Local Services Ad rankings?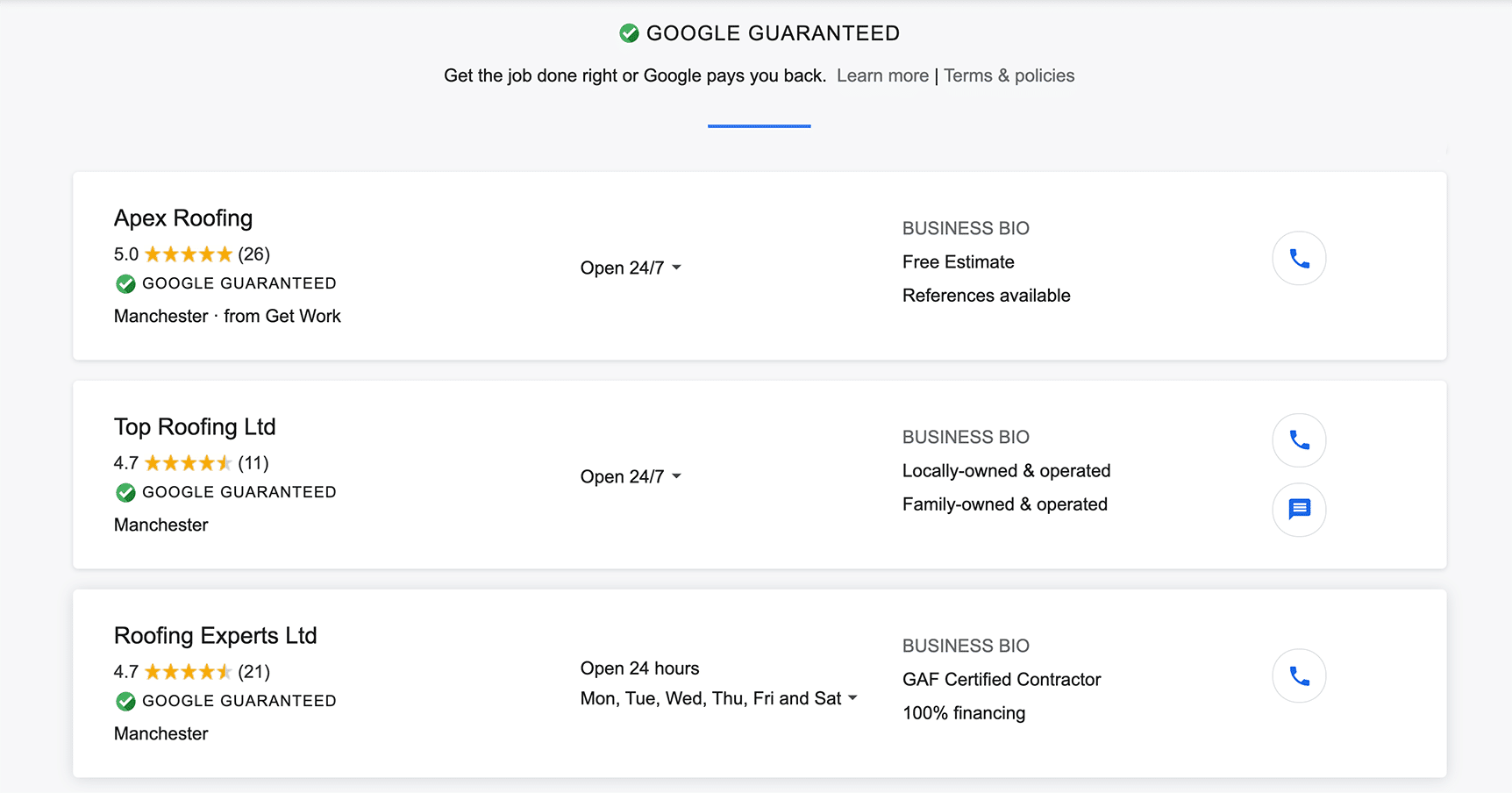 Of course, if there are a lot of businesses with LSAs for your chosen search terms, Google decides which ads to show based on a few important things:
Context: Google looks at exactly what the search terms were, when they were entered and where, as well as other information they know about the user such as their age, gender, interests, location (also known as 'demographic' information). This helps Google decide whether your service will help the user.
Reviews: your average online review score and the number of reviews you have from customers.
Responsiveness: how fast and reliable you are at responding to customer enquiries and requests.
Proximity: how close you are to the location of the person searching.
Business hours: you will be more likely to appear in the results during times when you are open than when you are closed.
Complaints: serious or repeated complaints will push you down the results list.
The thing to remember is Google wants to provide you with work, and they also want to give users the best experience. So they will do their best to put your business in the right place at the right time. They will also try to avoid swamping you with too many 'leads' (interested customers) at once, so may change your position slightly over time to help spread them out. This also helps you maintain your ad budget and stops you from being overwhelmed.
---
Why do reviews matter?
Reviews are important to both Google and customers. That's why Google prioritise those businesses with high ratings and lots of reviews. Potential customers are also more likely to prefer to do business with you if you have lots of positive reviews, so getting your existing customers to leave a review is important.
If you are not getting many reviews or your reviews have a low rating, you may not be ranking as highly in the order of LSAs. This means you could be at risk of being overlooked by future customers. The best solution is to remind and even incentivise customers to leave reviews.
---
Types of reviews
All reviews are important in promoting your business online and helping customers work out whether your service is for them. But there are a few different kinds of reviews you might find on Google:
Google verified reviews: currently only available in the US and Canada, these reviews are left by people who have found a business and employed its services through an LSA.
Reviews not associated with LSAs: Google may also display reviews left on a Google My Business page and on any partner websites. In these cases, the reviews will not be marked as "Google verified".
Anonymous reviews: Google allows reviewers to protect their identity by posting without their name or photo. These reviews will still display the type of job, when it was completed, and where (if this information is available).
At present, reviews left on Local Services Ads are not shown anywhere else on Google, but this may change in future. It's also a good idea to bear in mind that reviews are not deleted when you leave the LSA programme.
---
How can I get reviews?
If you want to increase the number of reviews your business receives, there are a number of ways to go about it.
Ask customers to give a review once you've completed a job: when you complete a job, make sure your customers know they can review your service and that this can help both you and your future customers. This is even more important if a customer has told you how happy they were with your service. The best thing is you don't have to wait for customers who hired you through your LSA to leave a review. Anyone can post a review using the Add a Review feature on your main Google business profile; their review will still be added to your LSA.
Contact past customers and ask: make the most of the relationships you have already built with existing customers by asking them if they will give you a review. Gently reminding them of the great job you did for them will help you gather more useful feedback to boost your ranking.
Send customers your Google link directly: when you join the LSA programme, you get given a unique Google link. No matter how new or old the customer, if you think they might be able to leave good feedback, send them your link to make it as easy as possible for them to leave a review.
---
How to target your Local Services Ads
Although Google does some of the legwork of getting your trade business found online, there is still more you can do to ensure your ad gets seen by those who are most likely to use your service.
Set your service types: when creating your ads, try to list the precise services you offer. If you detail a service that your competitors do not, you may be more likely to win their custom. For instance, if you are a plumber who installs showers, you can feature this specific service, which may mean you rank more highly in the results when potential customers search for that service.
Set your service areas: in addition to displaying the town or city in which you are based, Google offers you the option to specify individual postcode areas in which you work. Equally, you can specify the areas in which you are not able to work, perhaps because they are too far away. Combined, Google will use this information to further fine-tune where your LSA is shown so that your ad budget isn't wasted on enquiries from jobs you'd rather not take.
---
Getting the most out of Local Services Ads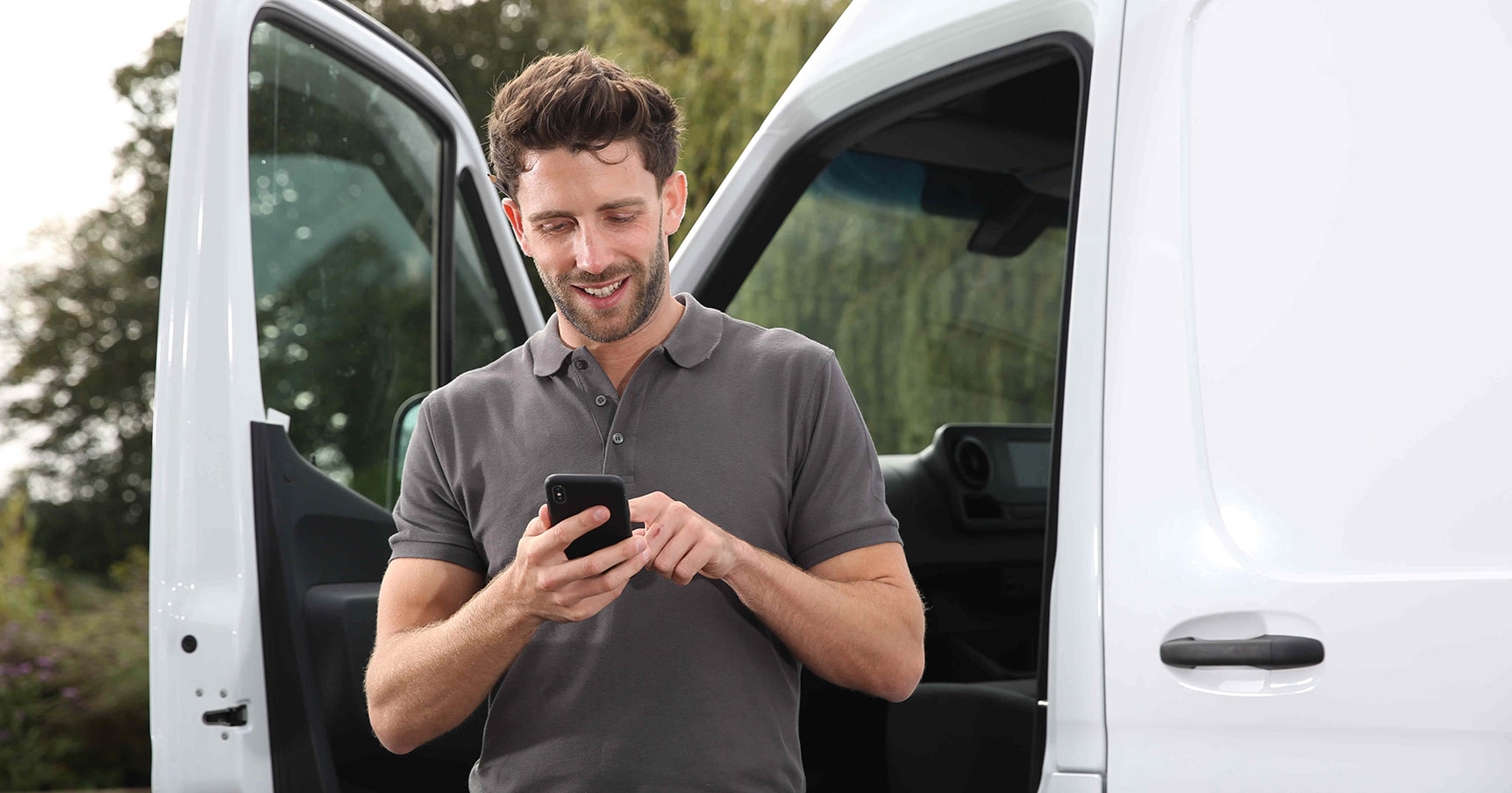 Of course, you could do the bare minimum and hope for the best. But putting a bit of time and attention into your Local Services Ads can help improve your online traffic and grow your customer base. Here are some tips:
Follow up leads promptly: any enquiries you receive from interested customers should be from people in need of your services, so it's important you strike while the iron is hot. Be as quick as possible when responding, which in turn will have a positive effect on your ad ranking. If Google can see that you reply quickly, you are more likely to appear near the top of the results. If you consistently fail to respond, however, you may find yourself nearer the bottom.
Maintain accuracy: it might seem obvious, but remember to update the information in your ads whenever it changes, such as your address, opening times or contact details. If you don't, you may receive enquiries from people who you can't assist or who can't reach you, and this can lead to negative reviews and can waste your ad budget. This goes for any other online presence you may have too; keep your information up-to-date across the internet so as to not only help your customers but Google too.
Satisfy your customers to satisfy Google: just as you will want to keep your customers happy, make sure you keep Google happy too. Ultimately, what they want to see is a company that provides continual satisfaction to customers; they wouldn't be backing you with the Google Guarantee otherwise. They judge your reputation in several ways, including their rating and review system, but also by the number of complaints you get. Of course, complaints can always be challenged, but where they are upheld, your LSA ranking will suffer, and in extreme cases, you may lose your Google Guaranteed status, and therefore your ads profile, altogether.
---
Best Practices for Local Services Ads
As outlined above, there are many ways to enhance your experience of LSAs. Here is a reminder of some of them, and others covered elsewhere in this guide. Need an easy way to remember it? Try LSALSR: because Local Services Ads get Local Services Results.
Legal information: keep it up to date.
Service types and areas: be specific.
Accuracy: be accurate, from your contact details to your experience and services.
Leads: respond to enquiries fast.
Satisfaction: it's the aim of the game for your customers and Google.
Reviews: encourage customers to rate you.
---
Summary
Google Local Services Ads are a great example of how the internet can be used to expand your customer base in your local area. While they are not the be-all and end-all when it comes to online marketing, their ability to help local tradespeople target specific individuals who need their services is a great benefit. When a job needs doing, so many people's first port of call is to Google it, and with LSAs, you can truly maximise your chances of being found by them when they do.
If you've decided to give them a go, then remember the tips provided above. Making the most of LSAs relies upon keeping your info updated, getting customers to leave good reviews and responding to enquiries promptly. Get those basics right, and you are set to benefit from prime position at the top of Google search results for people seeking your services in your area. With the added reassurance of the Google Guarantee, Local Services Advertisements can help you stand out online.
Getting started is easy, so if that all sounds good, then sign up today and start improving the quality of your online business.
---
Questions
---