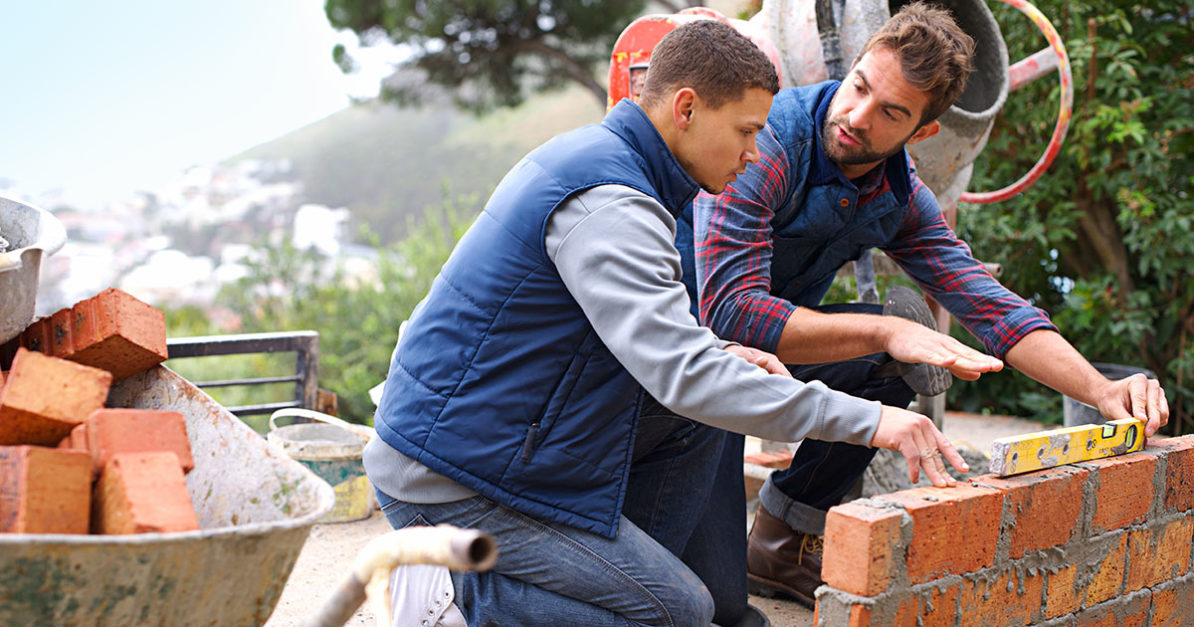 Want to build a powerhouse team of tradespeople?
Any tradesperson knows that running a trade business takes serious manpower. Once you have your bodies, you'll want to know how to get your team of tradespeople to be an efficient, reliable crew. But what makes a team successful?
94% of the UK's Most Successful Businesses Agree that learning is Crucial1 to employee success.
What if we told you that there's a blueprint for training Tradespeople to support you in growing your business? And…we have it right here!
This article covers:
---
Building a successful training programme for tradespeople.
It's no secret that the right people will either grow your business or run it to the ground.
So, it's not surprising that Google spent millions on a study to find out exactly how to build the ultimate, effective team2! They wanted to know why some teams failed while others flew.
So…what did they find and why do we care?
Well surprisingly, they found that what mattered most was HOW the team worked together rather than WHO is on the team! So, if you're hiring a new tradesperson, they have to work well with the rest of the team!
Qualifications and experience are always important but those with less skill and experience will also shine with the right environment! It's your job to ensure your team has the perfect setting for them to thrive together!
---
Google's study found that there are 5 elements to grow a successful team of tradespeople.
These are:
Trust: Google called this "Psychological safety." In short, this means that members of the team are comfortable being themselves and they have mutual respect for each other. Teammates feel confident admitting a mistake, asking a question, or offering a new idea.
Reliability: everyone in the team can be relied on to complete quality work on time.
Roles: each team member is clear about what their job is and the consequences of their performance on the team.
Purpose: everyone in the team needs to feel like they have a sense of meaning and purpose in the business.
Contributing/Impact: to get the most out of your team, your tradespeople need to feel like their work is contributing to the overall team and business goals. Feedback to them quarterly about the business goals and what part they will play in the quarter ahead.
These factors are vital in building the best trade teams. Include them in your inductions and all team interactions and you've got the recipe for a team that will help your business become a success. Piece of cake!
---
How do you train your new tradesperson? Where do you start?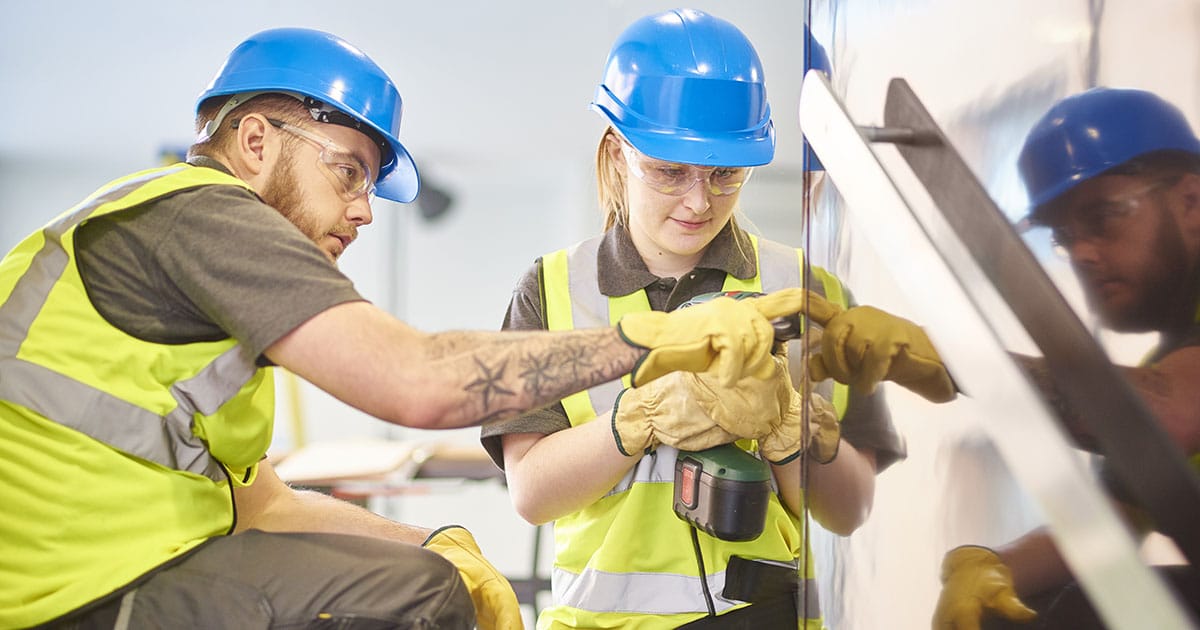 When you find the "person for the job" you'll want them to slot into your team and crack on working as soon as possible.
But did you know that:
40% of new recruits leave within the first six months of starting a new job!3
After all your hard work recruiting the ideal candidate, the last thing you want them to do is leave especially when the cost of a replacement can be up to £30,0004 including fees and loss of productivity!
When joining your business your new starter will be enthusiastic and ready to be engaged. No one likes to be the "newbie" and working in one place is always different from another so try to alleviate the new starter's anxieties and get them up to speed as soon as possible.
An organised induction will help your new recruit hit the ground running. It will also save you hours of explaining things as time goes on and side-step bad habits of previous jobs!
To make that possible, follow our guide to a successful induction.
---
What to include in the induction
First impressions count.
Even before kick-off, you can avoid mix-ups by sending a letter offering them the job. Be sure to include their place of work, job title, hours and pay. If done properly this covers your legal obligation to provide a Written Statement of Employment.
An induction doesn't all have to happen on the first day. Some of it can take months to cover it all but it should be the starting point of ongoing staff development, helping you build a solid team culture over time. An induction is the perfect opportunity for the company to give an insight into their culture, history and services.
---
How to give your new tradesperson the best first day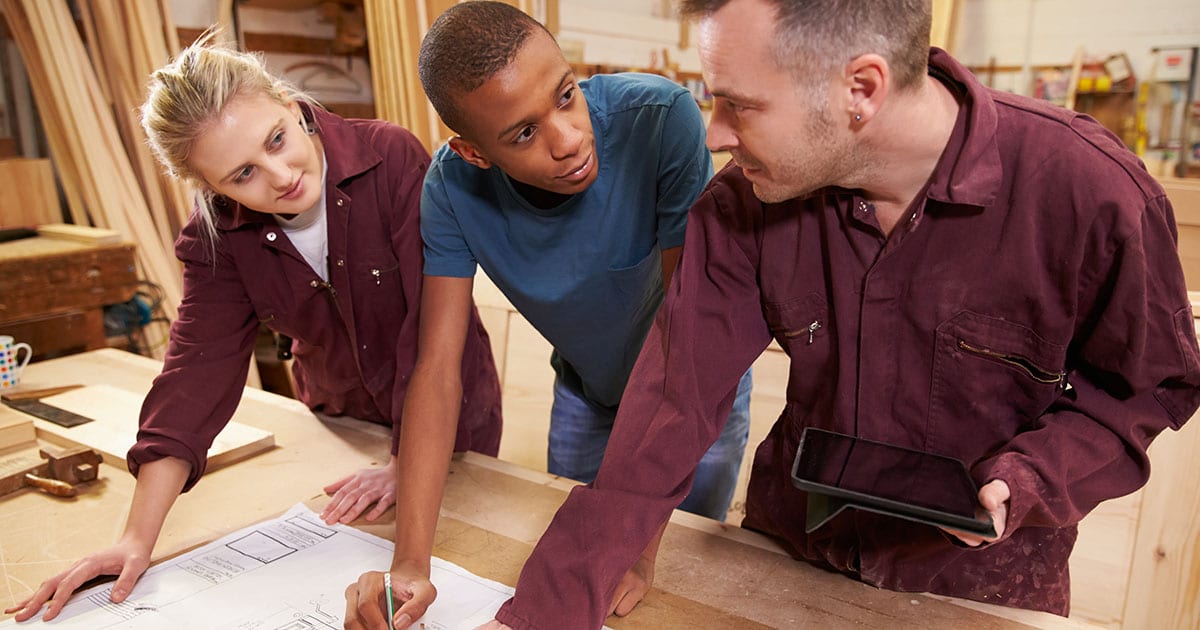 The first day should be about helping new employees get familiar with your business. Tell them more about their role, introduce them to the team and show them around the place.
Get the paperwork out of the way: Take their details for your staff log (HR records); get their P45; ID documents and bank details. Tell them things like start and finish times, when breaks are, how holidays are taken, what to do if they can't come to work or will be late. Then, show them around and talk about what their typical day looks like. This is a good time to sort out any paperwork, things like employment contracts and all the other documents.
Who's who: introduce them to everyone; get to know them a bit yourself and buddy them up with someone who can show them the ropes.
The next few days is all about the role…
Show your new recruit how you like things done. Don't get their back up by telling them how to do their job (if they are an experienced tradesperson). But, explain any processes that your team follows such as a certain way of ordering materials, how you answer the phone to customers and how you quote a job.
---
Get Work's 6 Top Tips
Instil the 5 key elements of successful teams from the off. Have a casual 1:1 chat with the new employee to explain the team culture, and be sure to go over the 5 key points.
1. Trust
Make sure they know that everyone is there to work together. Encourage them to ask when they don't understand or aren't sure of something and to pipe up with any new ideas!
2. Reliable
Let them know that you and the team will depend on them to produce quality work on time.
3. Role
Be very clear from the off about what exactly the employees' job is, describe their daily/weekly tasks, how you like things to be done and the results you expect them to deliver. Be clear about what standards you'll expect from the jobs they complete in terms of quality of work and expected timescales to complete specific jobs.
Before the end of the induction (within the first month) make sure you've covered:
4. Rules
Explain the company rules and what happens if they are broken. Include things like:
What behaviour is expected and what is not acceptable;
Work practices, such as how to deal with customers, answer the phone, quote for work etc;
How issues such as performance, discipline and absence are handled and who they need to speak to about them;
Any health and safety precautions that they must follow including what to do if there is a fire or another emergency;
Provide any training that they need to do their jobs safely and any Personal Protective Equipment (PPE) required. Keep all training records on the employees' file.
5. Goals
Set meaningful, challenging, and reachable goals to help staff stay focused and give them a sense of achievement, they can be short-term objectives that lead to longer-term goals. You could also mention any opportunities for development or training and routes for promotion here too. As an example, you could have a full list of "goals" on a training log that would take someone from an apprentice to a manager if they complete all of their goals over a certain time period.
6. Their impact on the team
Make sure they understand that their work impacts the business and team goals and that if they don't do their job the team suffers.
Spending a few hours now to ensure your new employees are clear on how your business and team operates is time well spent. It will avoid any "I didn't know" scenarios plus you'll save time dealing with these matters as one rather than as and when they arise.
---
On-going support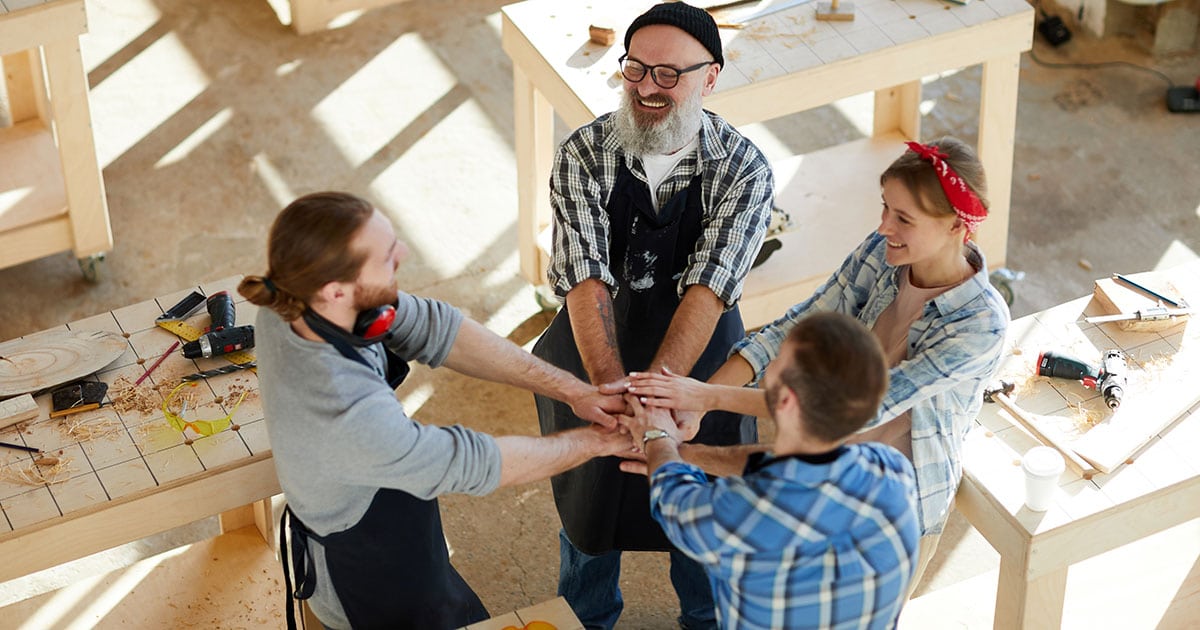 Check-in with all new employees after a month for a general review to see if they are settling in and to decide whether they have passed any probationary period. A 1:1 every three months is a good idea to see how they're getting on.
Every time you meet with your team, follow the same principles:
Encourage them to speak up and support each other
Make sure they know that every member of the team is dependable;
Make sure that they all have clear instructions
Make sure that they know that their role is meaningful, and they are relied on to meet the overall task or goals
Understand and value their individual impact on the business.
---
Continuous Training and Development
Training isn't just about showing someone the ropes.
90% of employers agree that upskilling an employee improves their team's output.
You'll want your team to develop and improve their skills so that your customers are getting the best possible quality of work, to keep your business ahead of the competition and to ensure your team is motivated, confident and happy in their work.
---
Here are 7 more reasons why you should train your staff:
It will make your life easier because you'll spend less time supervising under-trained employees.
Your business will be more efficient: 81% of employers agree that their staff perform better after training3. Properly trained staff are confident in what they do, helping them to meet deadlines, increase productivity, and work better all round.
There will be fewer accidents: Tradespeople are vulnerable to work-related accidents. Proper training schedules will decrease the chance of incidents occurring. Failure to provide adequate health and safety training to your staff could hold your business liable for negligence if there is an accident in the workplace or on-site.
Enhanced company reputation: Well-trained staff produce better work and know how to act when things go wrong so customers will form a better opinion of your business.
Your employee turnover will reduce: 68% of workers have changed jobs due to a lack of training4! Well trained staff are confident and happier in their job. They are grateful for learning opportunities and are more likely to stay loyal to your business.
You'll get recognised as a good place to work: The right training, including in diversity, safeguarding, or accessibility, can boost your image with both customers and the wider public, including potential new recruits. Helping you get the best tradespeople interested in your business!
It will keep you up to date with new technology: It pays to keep your staff trained in all the latest innovations so that they, and your business, are not disadvantaged by not understanding changing technology.
An induction will help the new employee feel settled within the team; they'll know how things are done, what's expected of them and how the team operates with each other. Continuous training will keep your team motivated and skills fresh and up to date.
CONGRATULATIONS! You've now got the blueprint for training tradespeople that will support you in growing your business! Now all you have to do is manage the team – child's play!
---
Questions about growing a team of tradespeople
---